Dialogue Books | Paul Mendez on Why He Loves Independent Bookshops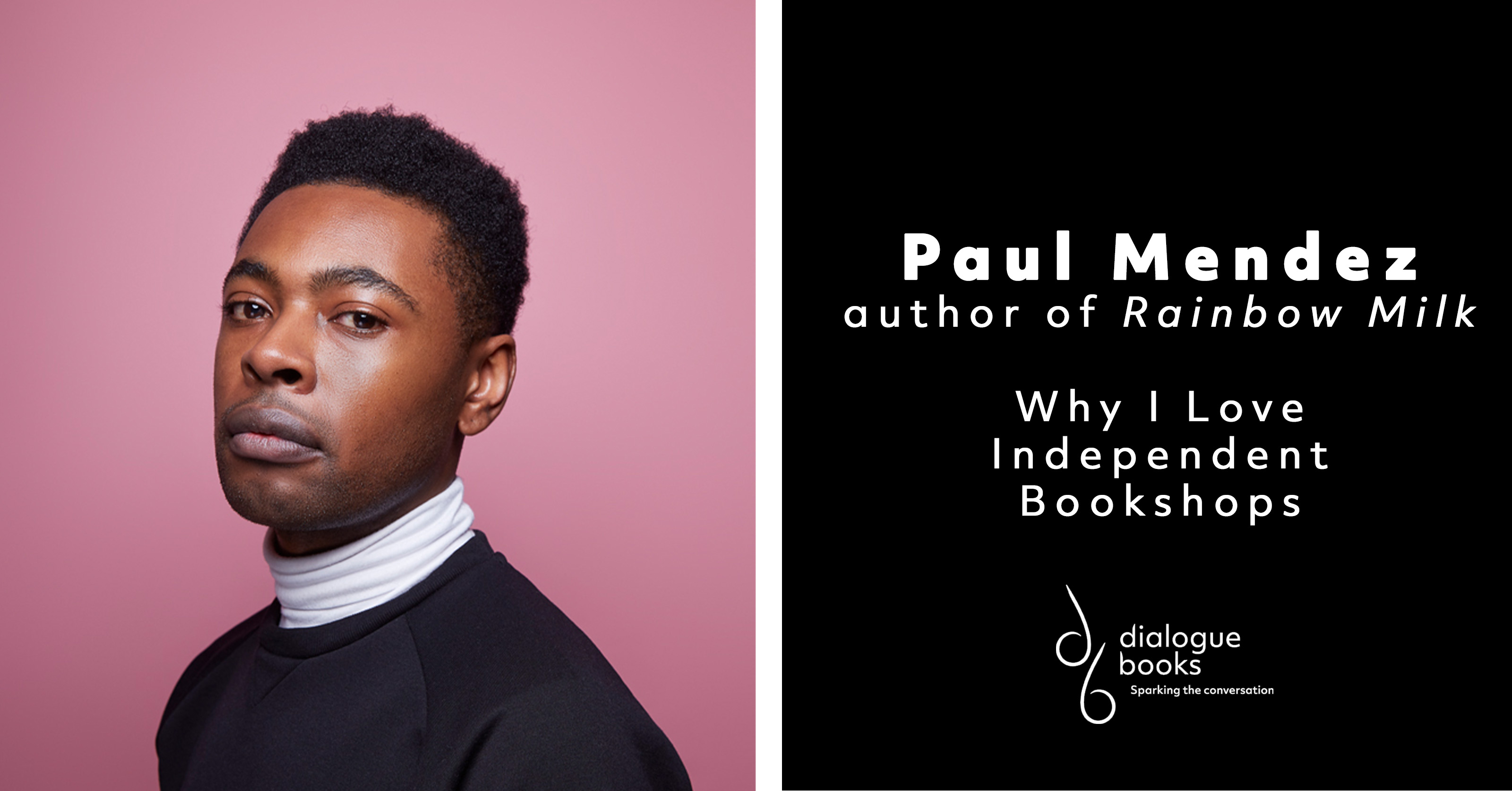 This Independent Bookshop Week we sat down with Dialogue Books debut author, Paul Mendez to discuss his love of bookshops. Paul Mendez was born and raised in the Black Country. He now lives in London and is studying for an MA in Black British Writing at Goldsmiths, University of London. He has been a performing member of two theatre companies, and worked as a voice actor, appearing on audiobooks by Andrea Levy, Paul Theroux and Ben Okri, most recently recording Ian Wright's A Life in Football for Hachette Audio. As a writer, he has contributed to the Times Literary Supplement and the Brixton Review of Books. Rainbow Milk is his debut novel.
Since writing this, Paul has been able to go out and finally see his first novel, Rainbow Milk, on the shelves of a real life bookshop – his local, Daunt's.
'Though the lockdown period has been a busy one for me, I've still had time to miss certain things I took for granted before the last week of March, such as the freedom to pop into my local Daunt to buy a book I didn't need, the fresh air helping me to finish a frustrating sentence back at my desk. I miss the flowing wine, conversation and nibbles at colleagues' launches at Burley Fisher, Gay's the Word or John Sandoe, even that moment when you're packed in listening to a reading with an empty glass, realising you need the toilet, bouche amused by truffle crisps now out of reach. When will I see again so tightly curated a selection of books as there is on display at the Black Cultural Archives, that makes me want to buy them all even if I have a lot of them already, or stumble across a long-established treasure I'd never known about, like Housmans, where I can find anything from anticapitalist polemics to radical intersectional feminist manifestos? That's before I even mourn the loss of our once-regular trips outside London, in search of more art or a medieval church, where we'd soon gravitate to the local second-hand or antiquarian, smelling the smells and finding nearly-new books at a fraction of the cover price.
I have a lot of books. I'm surrounded by them, piled up on the floor, on my bedside table, my bookcases full, the gaps above the standing books stuffed. But I still can't wait to get back out to my favourite independents to discover new voices, new ideas, new inspirations.'
---
Shortlisted for the Gordon Burn Prize

AN OBSERVER TOP TEN DEBUT 2020

'Sensuous and thrillingly well written', Observer

'When did you last read a novel about a young, black, gay, Jehovah Witness man from Wolverhampton who flees his community to make his way in London as a prostitute? This might be a debut, but Mendez is an exciting, accomplished and daring storyteller with a great ear for dialogue. Graphic Erotica Alert! Don't read this book if you like your fiction cosy and middle-of-the-road' Bernardine Evaristo, winner of the 2019 Booker Prize for Girl, Woman, Other

'The kind of novel you never knew you were waiting for. An explosive work that reels from sex, to sin, to salvation all the while grappling with what it means to black, gay, British, a son, a father, a lover, even a man. A remarkable debut' Marlon James, Booker Prize winning author of Black Leopard, Red Wolf

'This debut cements Mendez as a stunning new voice in fiction' Cosmopolitan

Rainbow Milk is an intersectional coming-of-age story, following nineteen-year-old Jesse McCarthy as he grapples with his racial and sexual identities against the backdrop of a Jehovah's Witness upbringing and the legacies of the Windrush generation.

In the Black Country in the 1950s, ex-boxer Norman Alonso is a determined and humble Jamaican who has moved to Britain with his wife to secure a brighter future for themselves and their children. Blighted with unexpected illness and racism, Norman and his family are resilient in the face of such hostilities, but are all too aware that they will need more than just hope to survive.

At the turn of the millennium, Jesse seeks a fresh start in London - escaping from a broken immediate family, a repressive religious community and the desolate, disempowered Black Country - but finds himself at a loss for a new centre of gravity, and turns to sex work to create new notions of love, fatherhood and spirituality.

Rainbow Milk is a bold exploration of race, class, sexuality, freedom and religion across generations, time and cultures. Paul Mendez is a fervent new writer with an original and urgent voice.