Dialogue Books: What Pride Means to Us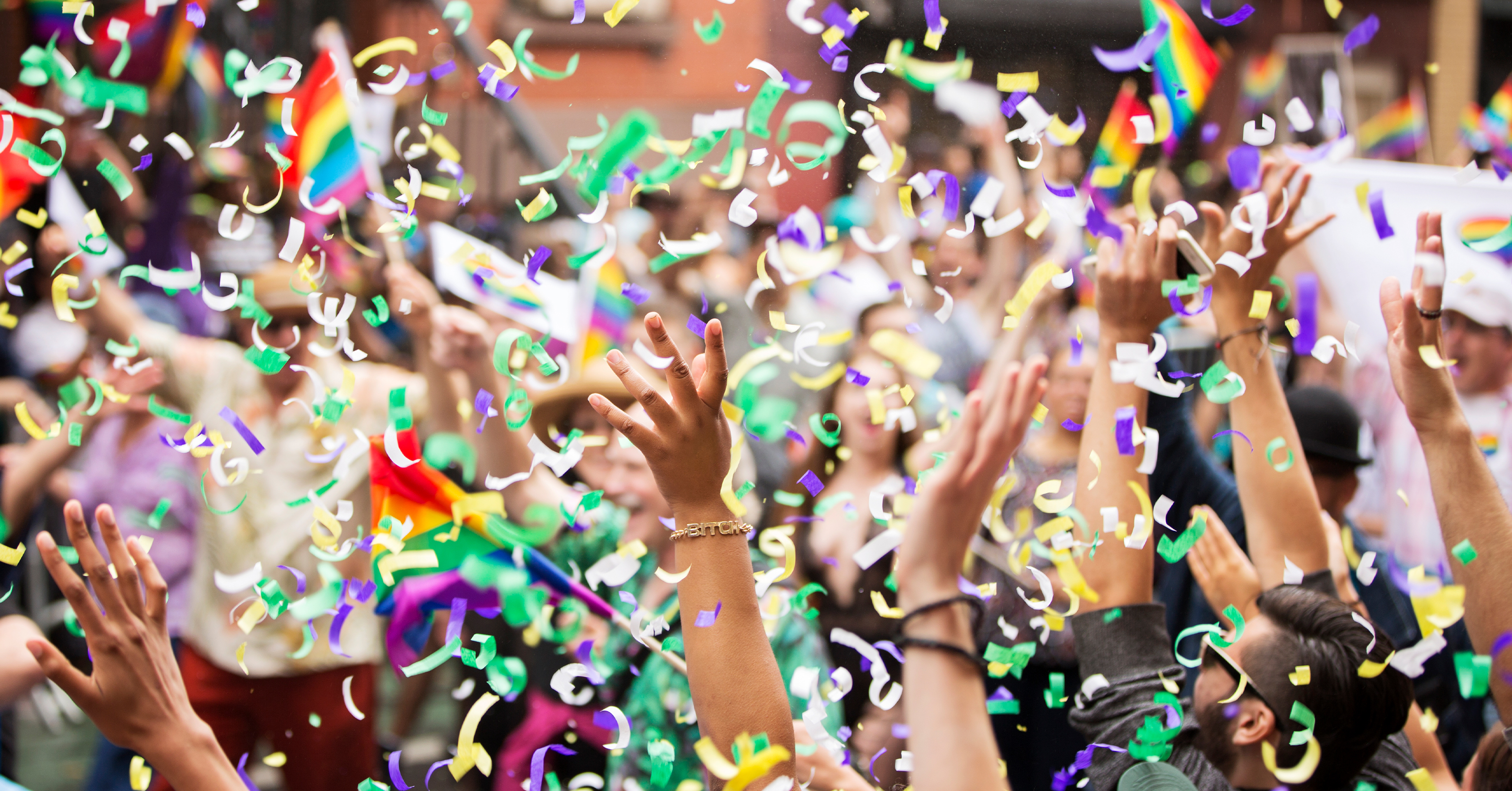 This year Pride has been a very different experience. We asked some of our authors to let us know what Pride means to them, from their favourite LGBTQ+ reads to their advice on how to be a better ally this month and every month.
JEFFREY BOAKYE
Author of Black, Listed
It's not complicated. Now more than ever, with our collective humanity being challenged and eroded by oppression and discrimination both insidious and explicit, we need to build solidarity. Marginalised communities are suffering, institutions continue to fail, and the spectrum of human experience continues to be underrepresented in mainstream society.
I write in solidarity for every one of us who has been othered. The world needs our voices and we can build a better future by releasing ourselves from the shackles of the past. I salute every writer, every person who strives to be heard above the roar of oppression and I'm proud to be swimming in these tides.
BRIT BENNETT
Author of The Mothers and The Vanishing Half
Some LGBTQ+ reads that I love: The Color Purple by Alice Walker, a story about black women finding liberation through love and community with each other; A Home at the End of the World by Michael Cunningham, which follows a complicated friendship turned romance between two young men who later form an unconventional family; The Paying Guests by Sarah Waters, a thrilling, romantic novel about a woman who gets entangled in the lives of her renters; and Red at the Bone by Jacqueline Woodson, which follows teenaged parents whose lives divide after the young mother goes off to college and falls in love with a female friend.
Happy Pride! Hoping everyone is finding ways to foster community through these difficult, distanced times.
BUKI PAPILLON
Author of An Ordinary Wonder
I love my Nigerian culture and grew up with proverbs ringing in my ears, guiding me towards certain behaviors; 'the child who learns to wash her hands properly will dine with elders', and warning me against others; 'A head that grows too big will only create space for more knocks'. Proverbs play a big role in my forthcoming novel, An Ordinary Wonder.
The Yoruba firmly believe that 'owe lesin oro, oro lesin owe, b'oro ba sonu, owe la fi n wa'. This means proverbs are like horses upon which words travel and vice versa, and if we lose sight of truth and wisdom, we must send out a "proverb horse" to search for the right words to restore balance. I have lately been thinking a lot about intersectionality and how to be an ally, and so I came up with some "proverb horses" to support a few tenets of good allyship.
First, make no assumptions. (E.g. ask people what their pronouns are and use them.) 'Ashes will fly back into the face of him who does not read the wind before throwing them.'
Second, educate yourself. Google is practically begging you to search? 'If you choose to close your eyes, you will learn through accidents.'
Third, apologise if you get it wrong + skip the explanations/excuses = this is on you but not about you. 'The lumpy pounded yam cannot be faulted on the yam seller. The cook must own up to her error.'
Fourth, amplify and promote. Use your privilege. Every voice matters. 'If you think you are too small to make a difference, you have not spent a night in a room with a mosquito.'
Finally, be kind and do as you would be done by. After all, the right words will bring kola nuts (or in my case chocolate!) out of another's pocket, but the wrong words will provoke arrows from a quiver!
An Ordinary Wonder is publishing in March 2021. Available to pre-order soon.
IRENOSEN OKOJIE
Author of Nudibranch
A short paragraph on one of my favourite LBGTQ+ reads: Trumpet by Jackie Kay. In this radical, expansive novel Jackie Kay charts the life and death of fictional jazz artist, Joss Moody. The book starts in the aftermath of Joss's death. Through the poetic vignettes and memories from a host of colourful characters including Joss's son Coleman, his wife Millie amongst others, we get to know Joss's hidden life as his secrets come to the fore. Wisely and intricately rendered, this is a novel that breaks barriers around gender and racial stereotyping.It is an indelible offering that stays with the reader long after the final page. In this current landscape where transgender and non-binary people still face societal repercussions for living authentic lives, Trumpet remains more relevant than ever.
MITCHELL S JACKSON
Author of Survival Math and The Residue Years
Here Mitchell shares with us his recommended Pride reads:
James Baldwin, Giovanni's Room (novel)
Bryan Washington, Lot (stories)
Jericho Brown, Tradition (poems)
Akaweki Emezi, Freshwater (novel)
Saeed Jones, How We Fight for Our Lives (non fiction)
Nicole Dennis-Benn, Here Comes the Sun (fiction)
LUCY AYRTON
Author of One More Chance
My favourite LGBTQ+ read is Fingersmith by Sarah Waters. Set in Victorian London, Fingersmith is a historical crime novel following Sue, an orphan raised by thieves, who gets caught up in a nefarious plot to strip a lady of her fortune. The plot, pacing and characterisation of the novel are all absolutely bang on, and it features the best twist I've ever come across in modern fiction. I remember reading this for the first time as a teenager and being absolutely swept up in it – I fell in love with the characters, and their complicated, messy love story felt so different to a lot of the more heteronormative romance plots I was reading at the time. So much more true to what my life was like, despite the dramatic historical setting. This book lives on a shelf above my bed along with about twenty others that I love so much I never lend out to people in case I need to do an emergency re-read at short notice.
ZALIKA REID-BENTON
Author of Frying Plantain
For those wanting to discover more of the LGBTQ+ reading canon, Zalike has shared her starter for ten:
Zami by Audre Lorde

No Telephone to Heaven by Michelle Cliff

Everyone Knows I'm a Haunting by Shivanee Ramlochan

Shut Up, You're Pretty by Tea Mutonji

All We Knew But Couldn't Say by Joanne Vannicola

Bastard Out of Carolina by Dorothy Allison

Fledgling by Octavia Butler

Fear of Stones: and other stories by Kei Miller

Scarborough by Catherine Hernandez

I'm Afraid of Men by Vivek Shraya
AMER ANWAR
Author of Brothers in Blood and Stone Cold Trouble
As a crime writer one of my favourite gay characters in crime fiction is Leonard Pine from the Hap and Leonard series by the American author Joe R. Lansdale. Set in sticks of East Texas, the series features the two friends, who couldn't be more different. Leonard is a gay, black, war veteran and his friend Hap Collins is a white pacifist with a weakness for women. Together the two of them end up in various scrapes and adventures, always there for each other. Lansdale's depiction of Leonard was the first time I remember reading a kick-ass gay character that wasn't a stereotype. The banter between the him and the straight Hap, is a joy and sometimes genuinely laugh-out-loud funny. It was so refreshing to see a character like that written in the kind of fast-paced, action packed crime thrillers I love to read. The first book in the series is Savage Season. I can't recommend it highly enough and I can't wait for you to meet Hap and, especially, Leonard too.