Meet Jacqueline Bublitz: Part 2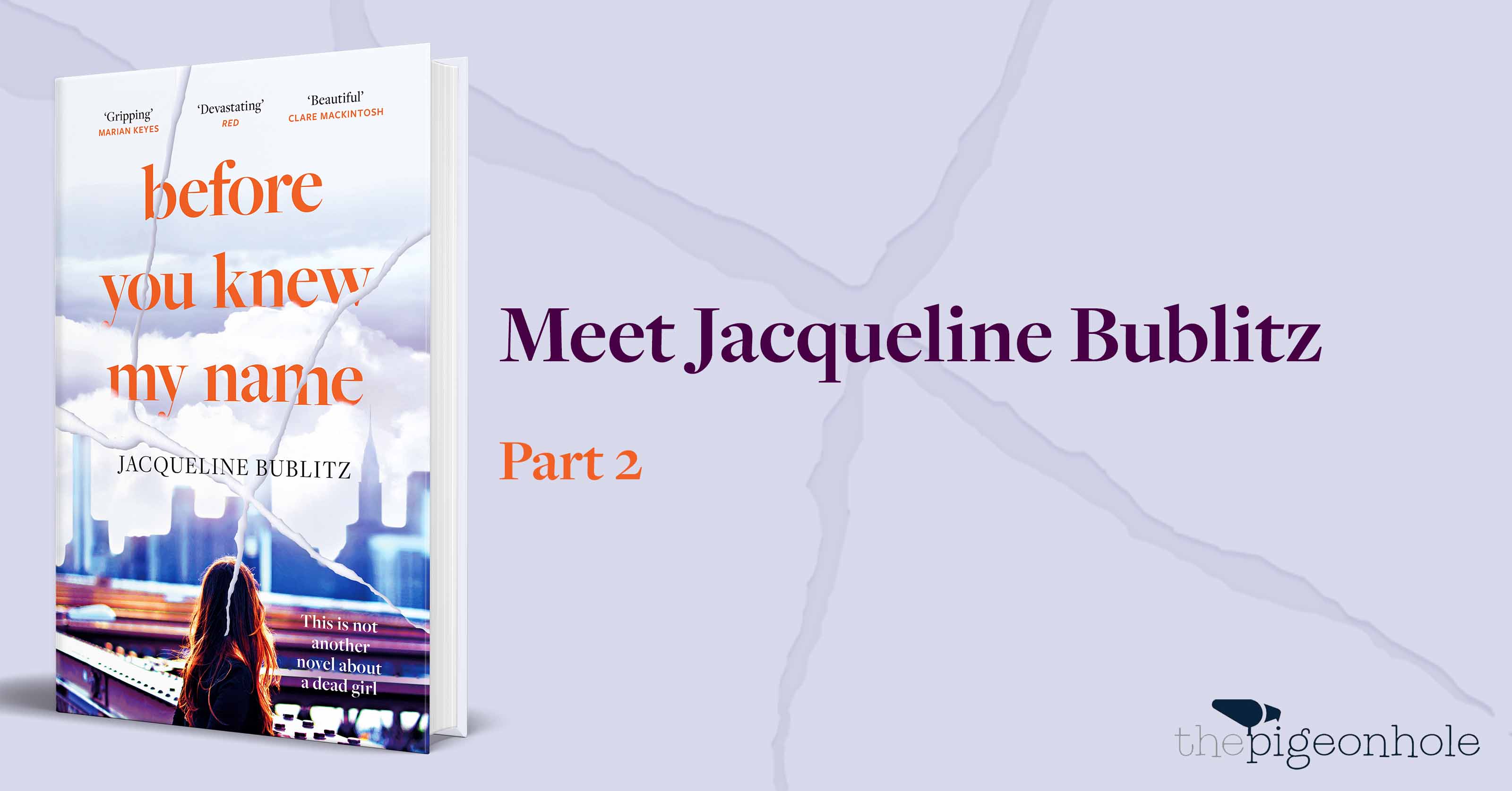 To celebrate the publication of Before You Knew My Name in ebook and audio, author Jacqueline Bublitz chatted with Pigeonhole, a digital book club platform, to answer their questions. Below you'll find part 2 and you can read part 1 here.
Describe the happiest day of your life.
I know this one because I was acutely aware of it in the moment! I was holidaying on Corfu with a good friend. He decided to sleep in, and I went down to our little beach with my coffee, a peach, and a new mystery novel. I sat there on a sun lounger, half-naked under the bluest sky I'd ever seen, and cried and cried. It was perfection. A moment where every sense was taken care of, and I was just – present. I suppose that's a moment rather than a day, but I still think that's the happiest I've ever been.
Which profession do you look at and think: "I'd love to be able to do that"?
100% I would love to be a psychotherapist like Esther Perel. Her focus is on sex, love and relationships, and her perspective is just so illuminating. I want to know what she knows!!
Which of the senses evoke the strongest memory for you? Is it your earliest memory?
Smell and scent are the most evocative for me. Certain smells can lift me out of space and time. I also sometimes hear an old song and I know it, in a way I can't explain. My earliest memories are a jumble of ABBA songs and the smell of salt and sea.
What does love feel like to you? 
A very good question! I shall keep writing my way towards the answer. If I had to say now – love at its best feels like the favourite part of your favourite song (for me, usually a dramatic key change).
What's your signature dish?
Two complimentary flavours of chips (crisps). I am a dreadful cook but always bring the snacks!
5 significant musicians in your life?
Stevie Wonder, Mariah Carey, Otis Redding … there are around 300 others jostling for the next two places on my playlist.
What are your favourite places and those that you dream of?
With the world so small at the moment, I'd say my favourite place is our local beach here at home in New Zealand, and the place I dream of (always) is New York City.
Which 3 words do you hope your friends would describe you with / and which ones would they actually describe you with?
I'd hope that they think I'm loving, empathetic and fun … I just asked a dear friend how they'd actually describe me, and they came back with passionate, fierce, and fair. Which is quite a heady combination! Someone I greatly admired once called me formidable, and I've wrapped that one up like a gift.
What would your superpower be?
I actually have a Jean Grey / X-Men outfit from back in the day. I'd definitely choose her powers of telepathy and telekinesis. But alas the outfit no longer fits.
Describe your typical (pre-covid) day:
Pre-Covid, I had a full-time 'day job' and lived in inner-city Melbourne. I would walk to work, and put in 10 or so hours, then go for mid-week wines with my fav teammates. And work some more. I'd pick up takeaways on the way home and probably think about writing, but instead binge watch something I'd already seen a thousand times, before passing out to do it all again the next day!                
Have you ever known a poem off by heart?
I don't have any poems memorised. But I'm good for a few Shakespeare quotes (My fav: 'O God, that I were a man! I would EAT his heart in the market-place.')
What makes you cry? 
Everything!
You can only watch 5 films/tv shows for eternity. What are they?
The Good Wife, Younger, Schitt's Creek, Ally McBeal Season 4 … and Dirty Dancing
Which era would you travel back to and why?
I've always been drawn to the Roaring Twenties – for the outfits, the speakeasies, the music, and the sense of possibility. But I say that as someone aware of my relative privilege were I to go back to that time.
Stealing a Desert Island Discs questions, what luxury would you take?
To an island? Grey Goose Vodka. For the long nights. To the 1920's – my laptop.
Would you rather be funny or nice?
Funny! It's such a gift to make people laugh (as long as it's never 'punch down' humour).
What is your guiltiest pleasure? 
No guilt when it comes to pleasure! But maybe a little indulgence when it comes to tuberose perfumes, and top-shelf vodka.
What is the worst job you've done? 
I was once a land surveyor's assistant in the middle of a freezing Michigan winter. I didn't understand the measurements I was supposed to be recording ('please move a yard to the left…??') and it was always SO cold. I feel like there are going to be whole neighbourhood wars in the next hundred years over all my miscalculations.
What does a Covid day look like for you?
Here in New Zealand, we are very lucky that life has gone back to some kind of normal, so when it comes to Covid, it's mostly about nervously checking the news each day to see how my friends and family in other countries are experiencing this new world of ours.
How do you unwind? 
A bath that I always run too hot. Red wine. Maybe a run in the rain. And watching YouTube montages of my favourite screen couples at midnight.
What is the closest you've ever come to death? 
I have never had my own near-death experience. But I did help nurse my Dad through the last days of his life, so I'd say I have formed a kind of reluctant intimacy with death.
What do you consider your greatest achievement? 
Ooooooh … I don't think I'm there yet!
What keeps you up at night? 
If you mean what actually keeps me up – messages from the UK! News from my agent and publishers tends to come through around 3am my time, and I've gotten into the extremely bad habit of checking my phone in the middle of the night for updates. In terms of what makes it hard to fall asleep in the first place, there's quite the list. Covid. The intersections of racism and misogyny. Armchair experts. And that thing I said that one time, to that one person, that didn't come out right (the actual thing and the specific person changes on the regular).
What song would you like played at your funeral / wedding? 
Funeral: There's A Place In The Sun by Stevie Wonder and Wedding: For Once In My Life by Stevie Wonder.
Final meal: you're allowed an aperitif, starter / drink, main / drink, Dessert / drink, digestif. What would you go for?
Just the drink! Vodka Martini, extra dry, with olives. So, I guess that takes care of the starter, too.
A GOOD HOUSEKEEPING BOOK OF THE YEAR

'Spellbinding' Elly Griffiths

'The most wonderful book. Unusual, beautiful, feminist, gripping, deserves to win prizes. I loved it so much.' Marian Keyes

'A brave and timely novel which will fuel the debate on women's rights to walk safely through our streets. I raced through the pages, anxious for resolution, yet at the same time not wanting this beautiful writing to finish.' Clare Mackintosh

This is not just another novel about a dead girl.

When she arrived in New York on her 18th birthday carrying nothing but $600 cash and a stolen camera, Alice was looking for a fresh start. Now, just one month later, she is the city's latest Jane Doe, an unidentified murder victim.

Ruby Jones is also trying to start over; she travelled halfway around the world only to find herself lonelier than ever. Until she finds Alice Lee's body by the Hudson River.

From this first, devastating encounter, the two women form an unbreakable bond. Alice is sure that Ruby is the key to solving the mystery of her life - and death. And Ruby - struggling to forget what she saw that morning - finds herself unable to let Alice go. Not until she is given the ending she deserves.

Before You Knew My Name doesn't ask whodunnit. Instead, this powerful, hopeful novel asks: Who was she? And what did she leave behind? The answers might surprise you.

'An exquisitely written, absolutely devastating novel, which gives a voice to all the women who never made it home.' Red

'I fell head over heels in love with this heartbreaking, beautiful and hugely important novel. Jacqueline Bublitz's prose is luminous and the up-all-night, just-one-more-page plot is brilliantly clever and original. Everyone should read this book.' Rosie Walsh, author of The Man Who Didn't Call

'A really remarkable book - so fresh and original. I've never read anything quite like this.' Laura Barnett, author of The Versions of Us

'I was mesmerised by this exquisitely written, heartbreaking, lyrical story of friendship from beyond the grave.' Jane Corry, author of My Husband's Wife