The Lovely Bones and Me by Jacqueline Bublitz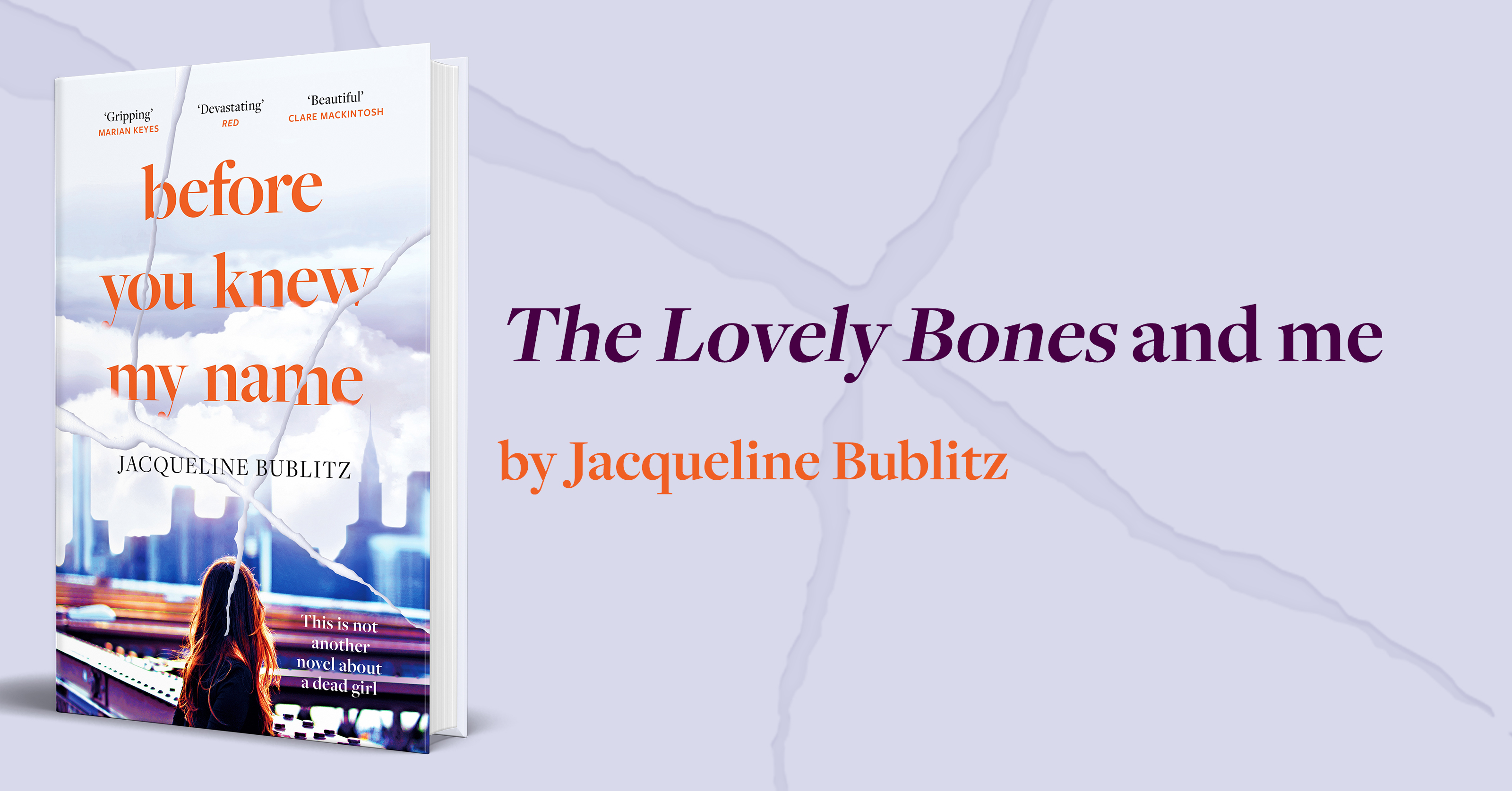 Debut author, Jacqueline Bublitz, fell in love with the runaway bestseller she read in her twenties so she set out to write a novel that would do for her niece, what The Lovely Bones did for her.
My copy of The Lovely Bones has that kind of cardboard-yellow look to its pages now. There are memories of dog-ears on certain pages; somewhere along the way I must have smoothed them out, though the cover still has creases, like a map. This is a book that has travelled the world with me. Found its way into suitcases unpacked from New York to New Zealand. I carry The Lovely Bones with me wherever I go. This book I bought nearly 20 years ago, though I can still remember the first time I picked it up on a display table at the old Borders in Melbourne, where a friend worked, and I could never afford to buy a thing on the shelves, though we piled up book after book to read on the couches at the back of the store.
Looking at The Lovely Bones now, this original copy I saved up for, and went back to buy, I'm guessing it was the David Lynch meets Judy Blume comp on the back cover that initially caught my interest. I was a Twin Peaks fan, and Judy Blume was (and still is) my imaginary Aunt. I do remember that this became the book all of my friends were talking about. The one we passed around. Sebold's writing was beautiful, but she didn't make it difficult for us. This was a novel we could read quickly, easily, but still feel profoundly moved by. Maybe we were already texting, or maybe we just talked about it on our late-night shifts at the call centre we worked at, as we recounted the scenes that had made us cry, and the sentences we loved. The classics, the university reading lists – we read those too, analysed and wrote essays about them. But this was a book we felt. Most of us, by our early twenties, had lost someone we loved. Back then, The Lovely Bones said something about the dead that we wanted to hear.
A few years (and pay rises) later, I bought my teenage niece a copy. There were certain books we could share across our generational gap. Along with The Lovely Bones, we read We Need to Talk About Kevin together. The Book Thief. Extremely Loud and Incredibly Close. I loved listening to my niece talk about what these books made her think, feel. They kept us connected when we lived in different countries, and we still reference characters from these books today (though my niece has grown up to be a teacher and prolific, diverse reader, who tells me what to read these days).
When I wrote Before You Knew My Name, she was the reader I was writing towards. I wanted to give Sophie a story that reminded her of those books we read together way back when. A novel where the author took care with you as they broke your heart a little. Saying something about the ways of the world, but mostly about being human, about hope, and how to find 'light in the darkest of places.' That's a direct quote from my vintage copy of The Lovely Bones, and my wildest hope is that Before You Knew My Name evokes something similar in readers.
And that somewhere out there, an aunty and niece might call each other, connecting across their oceans, saying 'I think you would like this book. We should read it together'.
A GOOD HOUSEKEEPING BOOK OF THE YEAR

'Spellbinding' Elly Griffiths

'The most wonderful book. Unusual, beautiful, feminist, gripping, deserves to win prizes. I loved it so much.' Marian Keyes

'A brave and timely novel which will fuel the debate on women's rights to walk safely through our streets. I raced through the pages, anxious for resolution, yet at the same time not wanting this beautiful writing to finish.' Clare Mackintosh

This is not just another novel about a dead girl.

When she arrived in New York on her 18th birthday carrying nothing but $600 cash and a stolen camera, Alice was looking for a fresh start. Now, just one month later, she is the city's latest Jane Doe, an unidentified murder victim.

Ruby Jones is also trying to start over; she travelled halfway around the world only to find herself lonelier than ever. Until she finds Alice Lee's body by the Hudson River.

From this first, devastating encounter, the two women form an unbreakable bond. Alice is sure that Ruby is the key to solving the mystery of her life - and death. And Ruby - struggling to forget what she saw that morning - finds herself unable to let Alice go. Not until she is given the ending she deserves.

Before You Knew My Name doesn't ask whodunnit. Instead, this powerful, hopeful novel asks: Who was she? And what did she leave behind? The answers might surprise you.

'An exquisitely written, absolutely devastating novel, which gives a voice to all the women who never made it home.' Red

'I fell head over heels in love with this heartbreaking, beautiful and hugely important novel. Jacqueline Bublitz's prose is luminous and the up-all-night, just-one-more-page plot is brilliantly clever and original. Everyone should read this book.' Rosie Walsh, author of The Man Who Didn't Call

'A really remarkable book - so fresh and original. I've never read anything quite like this.' Laura Barnett, author of The Versions of Us

'I was mesmerised by this exquisitely written, heartbreaking, lyrical story of friendship from beyond the grave.' Jane Corry, author of My Husband's Wife