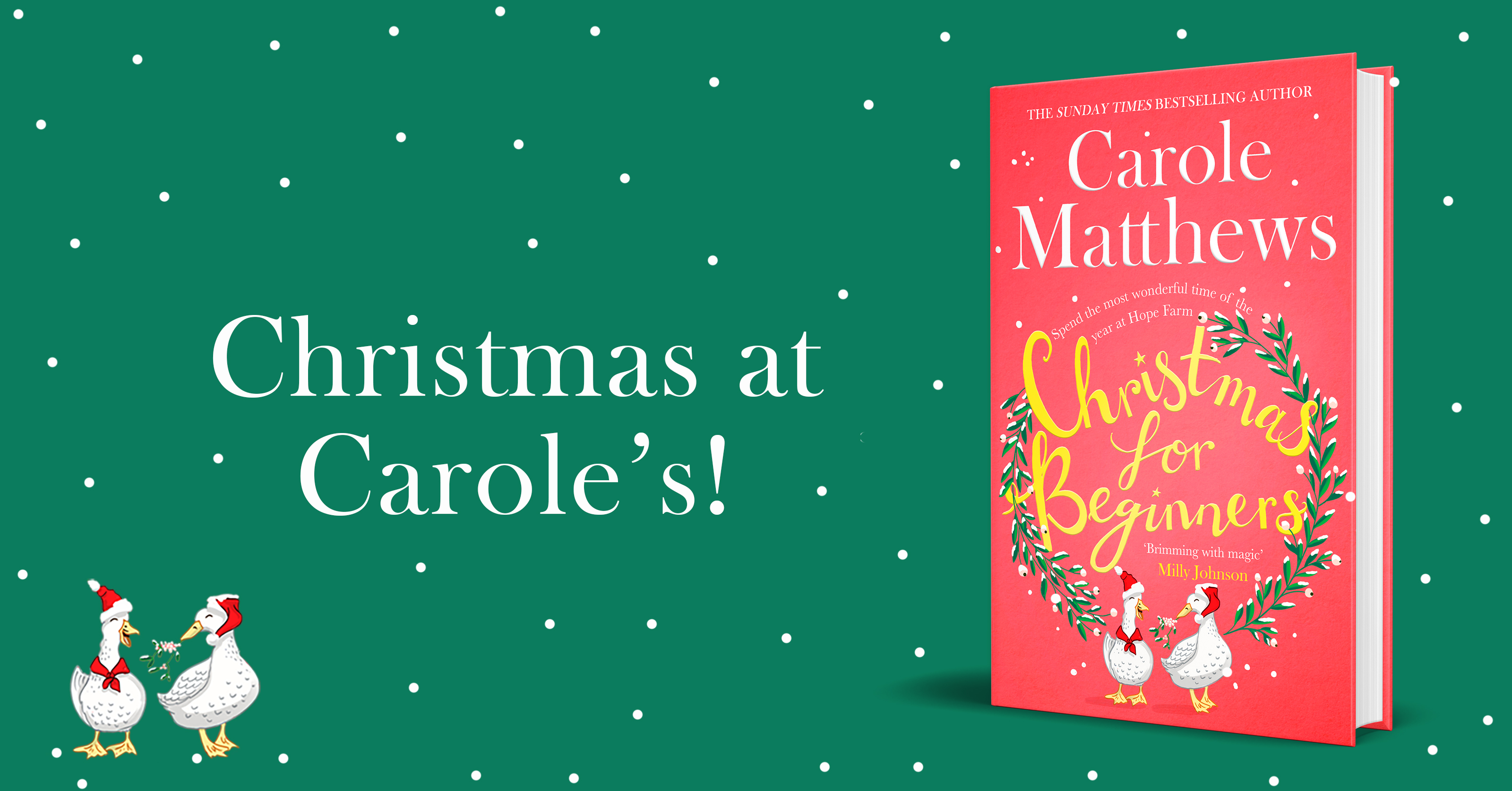 With Christmas just around the corner and her fabulously festive new novel, Christmas for Beginners, available to buy now, we asked Carole Matthews to share what Christmas at her place entails! Over to you, Carole…
I know that this year some people have already put up their Christmas trees to bring a bit of festive cheer, but I can't persuade Lovely Kev to do that! We do, however, always put our tree up during the first weekend of December and it's a mammoth job. We have a monster three-metre tree downstairs and another slightly less huge tree in our upstairs living room and they take us the whole day to decorate.
After breakfast the Buble goes on as does the mulled wine and then we decorate the trees while we work our way through a plate of mince pies. Sometimes friends pop in to help and stay for a glass or two – no wonder it takes all day! I love putting all the baubles on the tree as each one has either been bought for us or has special meaning. It's like reconnecting with old friends. It has become tradition to then go into our next-door neighbour's house for champagne cocktails and a roasty dinner. The perfect way to kick off the festive season. But who knows what will happen this year!
We normally have a lovely range of events that have become staples in the Christmas diary – the Waddesdon Manor Christmas Fair, the panto at our lovely theatre in Costa del Keynes, lunch at the same restaurant we've been to for the last twenty years (that's still booked, just in case!) and we normally spend a day in London so that we can see the Christmas lights and take in a show.
Christmas day is usually spent at home. Sometimes it's just with family or sometimes it's with a house full of people who all muck in. I love cooking my Christmas dinner – it's my favourite meal of the year. I guess this year is going to be a different and much quieter affair, so it will be Christmas telly and a box of chocs – and even more repeats than usual. Our celebrations might be more muted this year, but I'm hoping that we will still be able to see our friends and family. To me, that's what Christmas is all about.
The BRAND NEW festive and feel-good Christmas read from Sunday Times bestselling Carole Matthews

'Full of fabulously festive fun!' ERICA JAMES

**Shortlisted for the Romantic Novelists' Association's Contemporary Romantic Novel Award**

IT'S THE MOST WONDERFUL TIME OF THE YEAR . . .

Christmas is fast approaching at the new Hope Farm. Owner Molly Baker has been convinced to organise an open day to raise some much-needed funds ahead of the New Year, but the nativity tableau is proving challenging. With anti-social sheep, awkward alpacas and a seriously sequined Santa Claus to assemble, Molly is feeling overwhelmed, and in desperate need of some Christmas spirit . . .

Despite the chaos of the farm getting in the way of her event planning, Molly is looking forward to spending the holidays with boyfriend Shelby and his son, Lucas, hopeful that a happy family Christmas is exactly what they need to draw them all together. But while she is busy making plans on the farm, Shelby, it seems, has ideas of his own.

As the nativity draws near, the team are working hard to pull off a spectacular festive fete - and make sure the animals and humans remain on their best behaviour.

Will this Christmas be merry and bright... or is there more than one surprise in store for Molly and Hope Farm?

A must-read festive tale from the queen of fun-filled and life-affirming fiction, Christmas for Beginners is the PERFECT winter treat!

Your favourite authors love CAROLE MATTHEWS:

'A gorgeous novel that will delight'
KATIE FFORDE

'Fun, fantastic and brimming with Matthews magic'
MILLY JOHNSON

'A life-affirming story full of joy and hope'
CATHY BRAMLEY

'An irresistibly warm-hearted story'
TRISHA ASHLEY

'Warm, witty and hopeful - I was charmed'
SARAH MORGAN

'The queen of funny, feel good fiction'
MIKE GAYLE