Read an extract from One of the Family by Sadie Pearse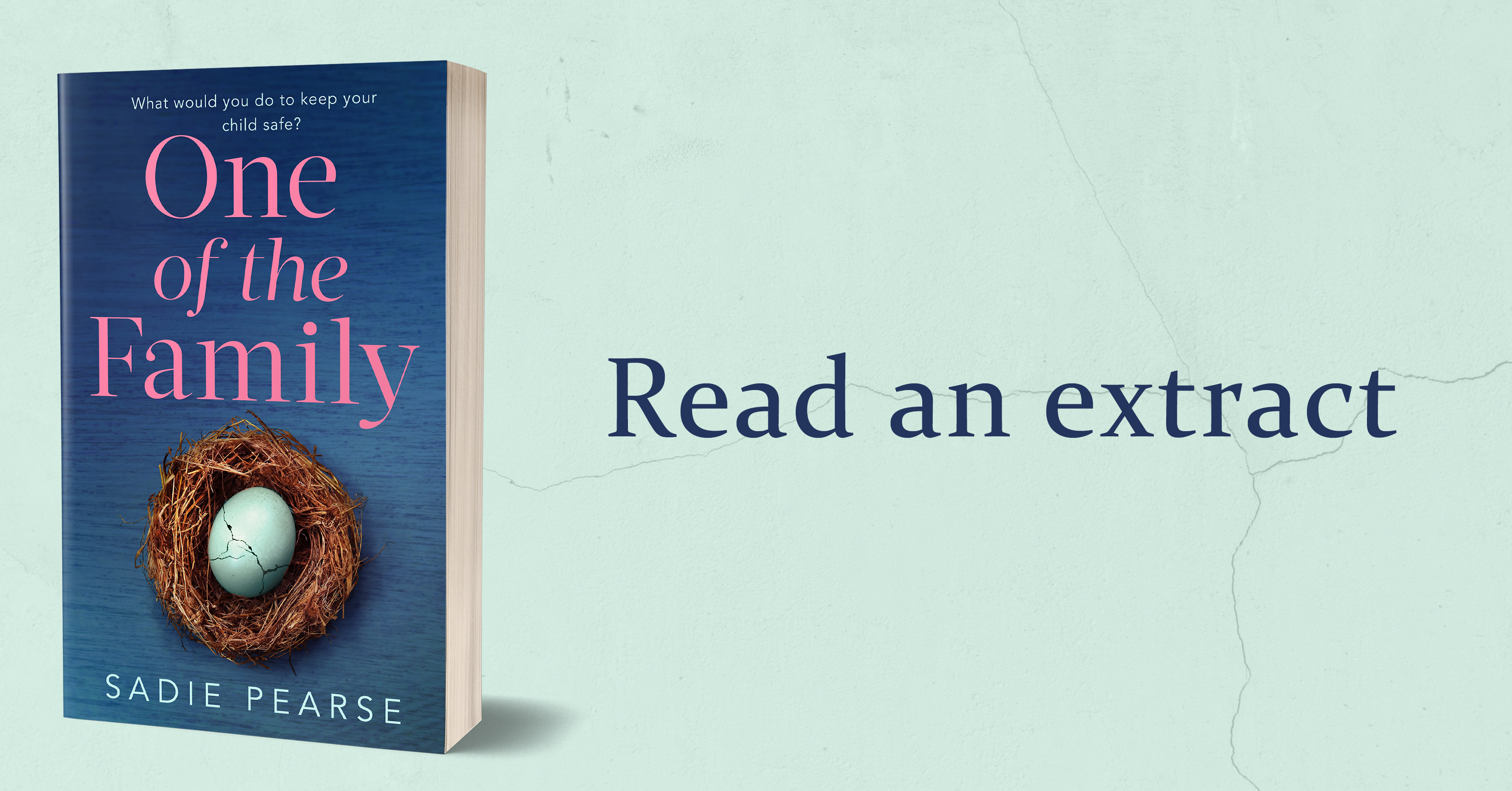 Prologue
29 August 2001, Dorset
Seventeen years of living in Fern Bay. I've seen all there is to see, in this place that is sure it knows the whole of me. This curve of sand on the Jurassic coast, with its high cliffs and small minds, has a way of locking you in. I've had enough of being locked in.
Past midnight. It's dark, it's quiet. It's time to go. In the hallway I put on my denim jacket and lace up my DMs on the bottom step of the stairs. It's the same place Freya and I used to put on our shoes when we were kids getting ready for school – Dad starting up the car, and Mum calling out from the kitchen – orders, or, when she was in a better mood, that she loved us. I'd sometimes hide one of Freya's shoes to wind her up. It was pretty easy to wind her up. She'd hit me with it when she found it, and we'd end up laughing.
I push those thoughts away. They're the kind of thing that stops me moving on. I don't want to be held back any more. I want to be me. I want for it to be OK to be me, and I feel like this time it will be.
I put on my backpack. It's heavy, heavier than it was the other times. I've planned it out better: I've got all the clothes I'll need, and enough money to get out of town.
I draw back the chain and unlatch the front door as quietly as I can. Mum and Dad are away, so it's not them I'm worried about. It's Freya – she's a light sleeper. I don't hear anything from upstairs, and as I close the door behind me I let out the breath I've been holding. I go from the silence of the house to the silence of the summer night outside. Inside, outside. Captive, free. I look at the bluebird tattoo on my forearm, and get a warm feeling inside. 
I'm walking down the front path and out on to the pavement, the slabs of concrete lit by the moon; it's a fat white moon and it's low in the sky tonight. My heart speeds up as I reach the end of our road, Beech Close. Excitement and fear mingle in my stomach. I'm walking out in the direction of the A road and I feel this rush inside me, as though all the energy I have finally has a place to go.
I've been here before. More times than I can count on both hands. But a day or two on I've always turned around, gone back too soon, back to those relieved faces, but feeling like I've let myself down. Not this time. This time I won't be on my own.
I look back and I see the light go on in Freya's bedroom on the second floor. I walk faster down the road. Instinctively I put a hand on the wallet in my pocket. A fat roll of twenties, some mine, some not. Just keep going . . .
I glance back. I see Freya silhouetted in the window.
Damn.
For a minute seeing her makes me want to go back. Then her light goes off.
One day, Freya. One day, I'll see you again.
Chapter One
19th April 2019, Fern Bay, Dorset
Freya opened her post at the dining- room table, making a pile of admin to go through. The radio was on, a play that she was half- listening to, as she sat down with her laptop and a mug of tea. She twisted her hair up into a bun and glanced out of the window, distracted by thoughts of Jessie, her six- year- old daughter. You could see most of Fern Bay from their living room, the sandy sweep of beach and the jagged cliffs, the paths that filled with tourists in the summer and emptied out as the days grew colder. Dark clouds had gathered through the morning, and it was raining heavily now. Jessie and her dad would be soaked.
Louisa was in the adjoining room, lying on the sofa with her feet up. She had headphones on, and was nodding to a beat Freya couldn't hear, surrounded by open textbooks and revision notes. She'd been studying since nine that morning, preparing for the GCSEs she'd start in a couple of weeks. Louisa had inherited her mother's tendency to want to get things right, and Freya sometimes wondered if she might be pushing herself too much at school. She couldn't be sure – Louisa's world was a more private place these days, and Freya was still adjusting to the way the doors had closed. It wasn't only her school work. When her daughter was sitting down in the evenings, her thumb running over her phone screen, her eyebrows drawn in towards one another, Freya would wonder where those messages were going, and what was coming back. But usually, just at the point Freya felt a prickle of concern, Louisa would laugh, look up from her phone screen and maybe even relay a line or two of the conversation. They'd chat together, Louisa's cheeks flushed and her eyes shining. She was more independent these days, and that was how it should be, Freya reminded herself. It was just hard, sometimes, to let her go.
Anyway, she had Jessie, her ball of sunshine, who still told her everything – from the questionable plotline of every Shopkins episode to just how wobbly her teeth were. Jessie had Freya firmly at the centre of her world. At times her demands for attention were
exhausting, especially on the days Freya came home after long hours at work. Her job, as a location scout, took her along the coast and through the West Country – finding places that would come to life on TV, and making arrangements for the film crew to use them. She got a buzz from the travel, but when she was away a lot she felt torn sometimes, aware of Jessie's need for her to be closer. Freya reminded herself that one day soon, like Louisa, Jessie too would slip more firmly into her friendships and away from her mother, and then she would miss this time.
Louisa took off her headphones. 'Test me on these ones, Mum?' she said, showing her mother a revision card. 'The pink highlighted bits.'
History. Not Freya's strongest subject, but better her than Joe.
Joe . . . well, Joe was Joe – by all accounts, he'd spent most of his school days bending the rules when he could, breaking them when he couldn't. Louisa, though, seemed to absorb facts and details effortlessly.
'OK – so, the English Civil War—' Freya started.
'No, sorry, not that one, the twentieth- century stuff.' Louisa switched the cards around. 'This one.'
'Right, so in 1918—'
The kitchen door opened, cutting her short. Joe and Jessie bundled into the room noisily, Jessie taking off her wellies and raincoat and dumping them on the kitchen floor.
'Hey!' Freya said. 'There are hooks for those.'
Jessie shrugged. 'In a minute.'
Freya looked at her pointedly.
'Now, Jess,' Joe said, taking her over to the hook. 'Christ, it's really coming down hard out there.'
'There's thunder and lightning!' Jessie said. 'I told Dad I didn't mind, but he said we had to come home.'
Freya got Jessie a towel to dry herself with, but she batted it away, running over to Louisa and hugging her. 'Hey, Louisa!'
Louisa pushed her away. 'Urgh, Jess!' she protested.
'You're soaking.'
Jessie shook her head, letting the wet strands whip her sister's face, like a dog fresh from swimming.
'MUM! DAD! Get her OFF me,' Louisa cried. Giggling, she lifted Jessie up and carried her into the living room, where they got down on the carpet and pelted each other with cushions.
'Everything go OK?' Freya asked Joe.
'Good, yes,' he said. 'Jess and I had fun today. We went down to the rock pools for a while before the rain got bad. Then we ducked into a café.'
'You mean you filled her up with waffles and ice cream?' Freya asked, with a raised eyebrow.
'Yep. I filled her up with waffles and ice cream. Right before lunch. Sorry,' he said, smiling. 'Sorry, not sorry.'
She pushed him gently, wrinkling her nose. 'Be off with you, then.'
'Bye, girls,' he called out. Jessie and Louisa waved back. Joe and Freya walked together to the front door.
'I'll pick Jess up on Monday for school,' he said.
'OK, sure,' Freya agreed.
'Louisa getting on OK?'
'Yes, I think so. She's been studying hard today, but there's so much for them to learn. And if she's really serious about going to medical school she's going to have to get the results this summer. A lot of her friends seem to have tutors—'
'She doesn't need that, Frey. She's smart. She's been working hard, like you say.'
'I know. It's just, since she got her mind set on becoming a doctor, it really matters.'
'She'll be fine,' Joe said. 'She's an intellectual powerhouse. Gets it from you.' He smiled, and his eyes crinkled a little at the edges.
She saw it then, what she used to see. Joe. The Joe she loved, the one she had a thousand memories with. They had been so close, once – it pulled at her heart to think how close, because things were different now.
He turned and walked down the path, then along the street that led to his flat. Joe. Still her husband, but not her partner. Two people. Two daughters. Two homes. It was as simple, and as complicated, as that.
A gripping and unputdownable read that will make you question just how far you would go to protect your family. Perfect for fans of Liane Moriarty and Clare Mackintosh . . .

'An emotional read' BELLA MAGAZINE, MUST READS
'A thrilling twist' PEOPLE'S FRIEND
'A moving story and an excellent read' WOMAN'S WAY

A MOTHER'S LOVE. A DEVASTATING SECRET.

Samantha Jackson has been missing for eighteen years. Then, out of nowhere, she gets back in touch with her sister.

Sam needs Freya - now a grown woman with a family of her own - to take in her son.

But Dino is not a happy child, despite the warmth of Freya's family he cannot settle. He startles at loud noises and he's prone to angry, violent outbursts. He's one of the family, Freya knows he is, but why doesn't it feel like that?

In order to keep her daughters safe, Freya is forced to go in search of the truth. What is going on with Dino, and what really happened to her sister the night she left?

Real readers love ONE OF THE FAMILY:

'A very emotional read that would be a sure fire hit for book clubs . . .the book stays with you long after you read it'

'An uputdownable book . . . definitely one to suggest in my book club'

'A thought-provoking read with many high and low moments along the way . . . a great read'

'It plays with your emotions, lingers in your mind, an exhilarating and thought-provoking read'

'A beautiful story talking about real life issues. A truly sensitive and gripping novel . . . Sadie Pearse does this with such great storytelling'

'Very well written and the characters were believable. Highly recommended'

PRAISE FOR SADIE PEARSE:

'Excellent read, perfect for book clubs . . . An important and moving story' CLARE MACKINTOSH

'Both thought-provoking and emotional' THE SUN

'An incredibly accomplished novel' CATHY BRAMLEY