This Month's Audio Picks for Non-Fiction November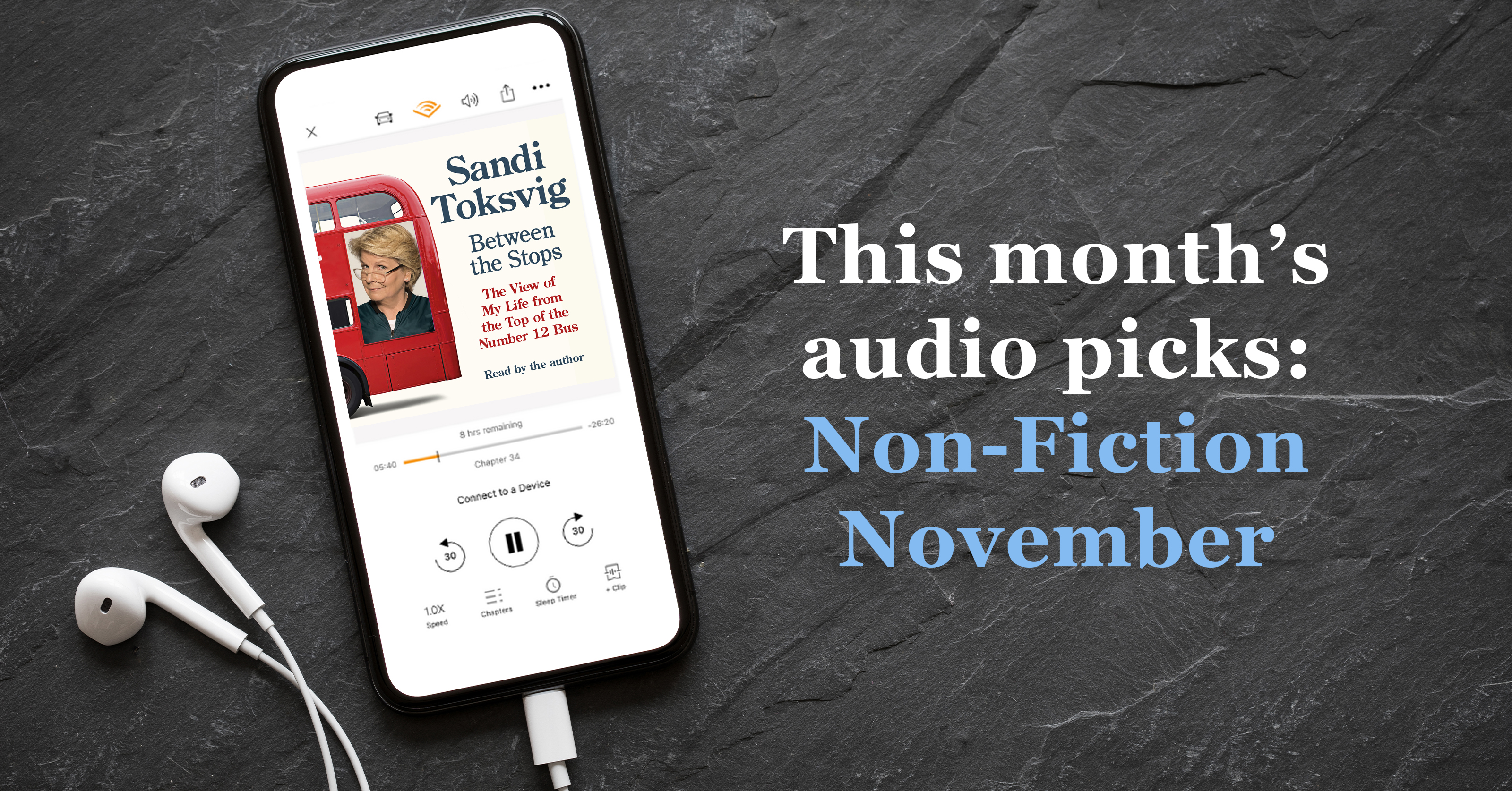 To celebrate non-fiction November here's a very small selection of some of the many brilliant non-fiction authors we publish here at Little, Brown. From true crime to cleaning to memoir, there's always something for everyone.
Between the Stops by Sandi Toksvig, read by the author
This long-awaited memoir from one of Britain's best-loved celebrities – a writer, broadcaster, activist, comic on stage, screen and radio for nearly forty years, presenter of QI and Great British Bake Off star – is an autobiography with a difference: as only Sandi Toksvig can tell it.
A funny and moving trip through memories, musings and the many delights on the Number 12 route, Between the Stops is also an inspiration to us all to get off our phones, look up and to talk to each other because as Sandi says: 'some of the greatest trips lie on our own doorstep'.
Catch and Kill by Ronan Farrow, read by the author
In a dramatic account of violence and espionage, Pulitzer Prize-winning investigative reporter Ronan Farrow exposes serial abusers and a cabal of powerful interests hell-bent on covering up the truth, at any cost.
This is the untold story of the exotic tactics of surveillance and intimidation deployed by wealthy and connected men to threaten journalists, evade accountability and silence victims of abuse – and it's the story of the women who risked everything to expose the truth and spark a global movement.
Both a spy thriller and a meticulous work of investigative journalism, Catch and Kill breaks devastating new stories about the rampant abuse of power – and sheds far-reaching light on investigations that shook the culture.
Red River Girl by Joanna Jolly, read by Penelope Rawlins
On 17 August 2014, the body of 15-year-old Indigenous runaway Tina Fontaine was found weighted down in the Red River in the Canadian city of Winnipeg. The loss of Tina was a tragedy for her family and for the Indigenous community. But it also exposed a national scandal: Indigenous women are vastly more likely than other Canadians to be assaulted and killed. Over the past few decades, hundreds had been murdered – or simply gone missing. Many of these cases have never been solved. In an astonishing feat of investigation, award-winning BBC reporter and documentary maker Joanna Jolly has reconstructed Tina's life, from her childhood on the Sagkeeng First Nation Reserve to her difficult teenage years. Red River Girl is the compelling story of the elaborate police investigation into Fontaine's death and the detective obsessed with bringing her killer to justice – and an exploration of the dark side of a country known for its tolerance and liberal values.
Mindset by Dr Carol S.Dweck, read by Bernadette Dunne
World-renowned Stanford University psychologist Carol Dweck, in decades of research on achievement and success, has discovered a truly groundbreaking idea – the power of our mindset.
Dweck explains why it's not just our abilities and talent that bring us success but whether we approach them with a fixed or growth mindset. She makes clear why praising intelligence and ability doesn't foster self-esteem and lead to accomplishment but may actually jeopardise success. With the right mindset, we can motivate our kids and help them to raise their grades as well as reach our own goals – personal and professional. Dweck reveals what all great parents, teachers, CEOs and athletes already know: how a simple idea about the brain can create a love of learning and a resilience that is the basis of great accomplishment in every area.
Mister Good Times by Norman Jay MBE, read by David Monteith
The enthralling life story of the legendary DJ Norman Jay MBE.
Mister Good Times is the enthralling story of a black kid growing up in a (largely white) working class world; of vivid, often violent experiences on the football terraces; of the emerging club scene growing out of a melting pot of styles; of how Jay, with his contemporaries, took the music of black America, gave it a distinctly London twist and used the marriage of styles to forge a hugely successful career as a trailblazing DJ and broadcaster, becoming an inspiration to a whole generation of dance music fans, black and white, without ever compromising his integrity.
My Life with Murderers by David Wilson, read by the author 
Professor David Wilson has spent his professional life working with violent men – especially men who have committed murder. Aged 29 he became, at that time, the UK's youngest ever prison Governor in charge of a jail and his career since then has seen him sat across a table with all sorts of killers: sometimes in a tense interview; sometimes sharing a cup of tea (or something a little stronger); sometimes looking them in the eye to tell them that they are a psychopath. Some of these men became David's friends; others would still love to kill him.
My Life with Murderers tells the story of David's journey from idealistic prison governor to expert criminologist and professor. With experience unlike any other, David's story is a fascinating and compelling study of human nature.
The Organised Mum Method by Gemma Bray, read by the author
The Organised Mum Method is THE housekeeping bible that will completely revolutionise your home. Say goodbye to mess, clutter and weekends spent tidying and cleaning! Gemma Bray (a.k.a The Organised Mum) is a firm believer that there is more to life than housework, and over the last decade she has perfected The Organised Mum Method (TOMM).*
The Organised Mum Method is a structured, manageable and ultra-efficient cleaning routine that ensures all areas of the home are taken care of. It's easy to follow, effective and ensures that everything gets done in just 30 minutes a day, Monday to Friday … and you get weekends off!
*Don't worry dads — it works for you too.
52 Times Britain was a Bellend by James Felton, read by the author
Twitter hero James Felton brings you the painfully funny history of Britain you were never taught at school, fully illustrated and chronicling 52 of the most ludicrous, weird and downright 'baddie' things we Brits* have done to the world since time immemorial – before conveniently forgetting all about them, of course. Including:
– Starting wars with China when they didn't buy enough of our class A drugs
– Inventing a law so we didn't have to return objects we'd blatantly stolen from other countries
– Casually creating muzzles for women
– And almost going to war over a crime committed by a pig
*And when we say British, for the most part we unfortunately just mean the English.