Happiness tips from Eva Woods, author of How to Be Happy and The Lives We Touch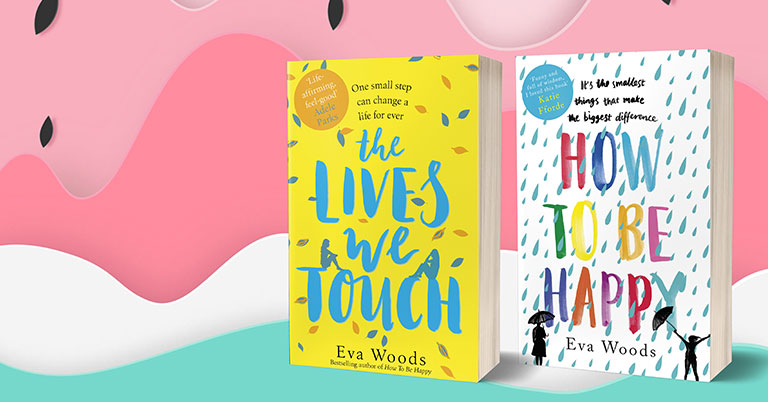 Happiness tips from Eva Woods, author of How to Be Happy and The Lives We Touch
Get moving. If I'm in a bad mood, it's almost always because I've been stuck at my desk for hours or not left the house all day. I love swimming, dancing, a walk round the block, or even some yoga.
2. Visit a nice café. There's something so cosy about a warm, coffee-scented café with good cake. I often go there to work, if I need to get out of the house.
3. Cook or bake something. I find this a good activity when I need to think things over – it keeps my hands active and requires just enough focus that I can still daydream about my work. Plus you'll have something tasty and nutritious to eat!
4. Go to the cinema. Like everyone, I find it hard to put my phone down these days while watching TV. At the cinema I have to totally immerse myself in the film, and of course I have to get pick and mix as well.
5. Tidy up. I find it really hard to relax and be happy if the house is a mess or the laundry or dishes aren't done. Tidying up a messy cupboard or sorting your wardrobe is very therapeutic – there's a reason Marie Kondo is so popular!
6. Take a class. I love evening classes, as they give me a real sense of achievement while broadening my horizons and introducing me to new people. I've made some lifelong friends this way!
'So likeable, smart and wise. A bittersweet read about love, life and friendship that makes you stop and think long after you've finished reading the last page.' - bestselling author Tasmina Perry

'Entertaining, funny and full of wisdom, I loved this book.' - bestselling author Katie Fforde

'I read this recently and loved it SO much. I cried buckets, but it's ultimately a really positive, uplifting book about making every day count.' - bestselling author Clare Mackintosh

----------------------------------

The smallest things can make the biggest difference.

Annie has been sad for so long that she's forgotten how to be any other way. Until she meets Polly.

Polly is everything that Annie is not. She's colourful, joyful, happy. Because if recent events have taught Polly anything, it's that your time is too short to waste a single day.

Polly has one hundred days to help Annie find happiness. Annie's convinced it's impossible, but so is saying no to Polly. And on an unforgettable journey, Annie begins to realise that maybe, just maybe, there's still colour to be found in the world.

But then it becomes clear that Polly's about to need her new friend more than ever...and Annie will have to decide once and for all whether letting others in is a risk worth taking.

If you liked Eleanor Oliphant is Completely Fine or The Keeper of Lost Things, you'll love How to Be Happy

**********************

'A joyful, wise read' - Rosie Blake

'It's a gorgeous book - funny, touching, sweet, sad and profound.' - Daisy Buchanan

'You'll laugh and cry . . . heartwarming' - Best

'Uplifting' - Independent

'Will make you laugh while it tugs at your heart strings' - The People
The feelgood, uplifting, fabulous new book from Kindle bestseller Eva Woods.

***Shortlisted for The Goldsboro Books Contemporary Romantic Novel Award***

Perfect for fans of Lucy Diamond, Lucy Dillon and Rowan Coleman.

Rosie is stuck. She wakes up in hospital after a terrible accident, unable to move or speak. And strange things are happening to her. She's reliving past days of her life, watching her most painful, sad, and embarrassing moments play out again. She's being guided by long-lost friends and family, who she's pretty sure are dead. She knows she's supposed to learn something that will help her wake up - but what is it?

Daisy is Rosie's sister - the good girl, the sensible one. She's terrified that her sister tried to kill herself, so she's searching through Rosie's life and past to try and find out what happened that day. But what she learns might shatter their damaged family forever - and mean Daisy can never go back to her own safe, suffocating life. Can she find the courage to help her sister - and herself?

It only takes one tiny step to change a life forever...