Read an extract from The Man I Can't Forget by Eva Woods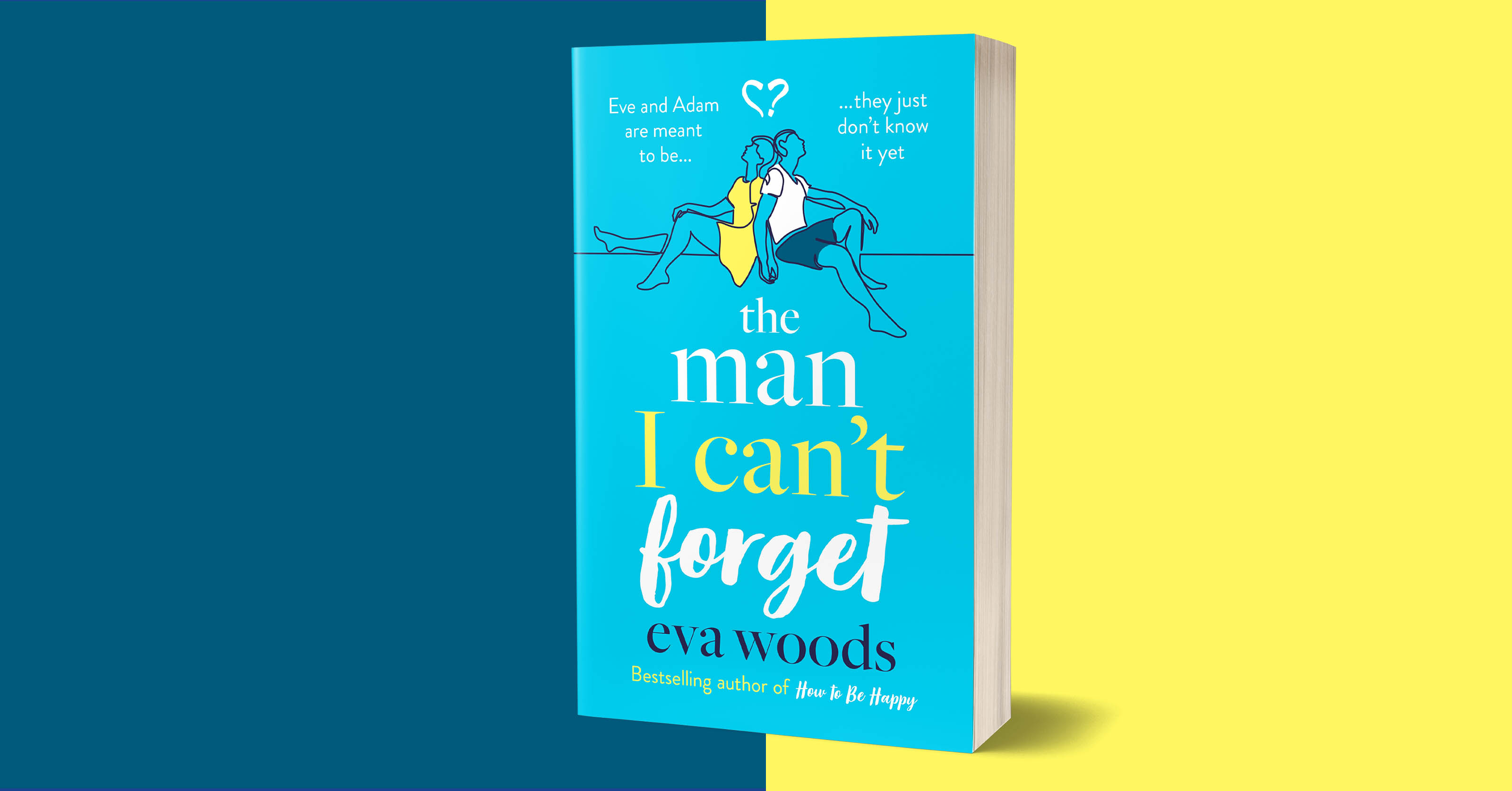 Eve
The first time I saw him was not in romantic surroundings. Far from it – it was in the rec room of Sunnyside Independent Living Centre, the care home that I work in, in the town of Bishopsdean in Southern England. It's what you call a 'commuter town', which means it exists mostly so that people can travel there to sleep. And it does feel like a place people only go to close their eyes. Quiet, characterless. Comfortable, in its way, I suppose.
On that particular day – a chilly, grey one in March, the kind where the sun seems too tired to shine properly – Daniel O'Donnell was playing on the stereo and at least one person had definitely had an accident in their chair (or else done a dirty protest at the music). I was trying to find the source of the smell, sniffing round like a beagle, when Magda came in.
Magda (indeterminate age, jewel- rimmed glasses, if not the world's actual worst driver then at least in the top ten) is my boss, the 'senior lifestyle facilitator' here at Sunnyside, which means she wears suits from George at Asda instead of the wipe- clean scrubs the rest of us have on. More than once I've thrown myself in front of her to block flying bodily fluids, like the President's bodyguard taking a bullet (for example when John Hinckley Jr shot Ronald Reagan in 1981, but did you know he also shot three other people, including the President's Press Secretary, who was called James Brady and who died of his injuries years later?). I noticed that Magda had at least four pens stuck into her huge messy bun, which meant today was 'one of those'.
'Eve,' she said, sniffing distractedly, 'we have a new resident. This one is . . . different.'
'Different how?' I steered her away from the battlefield that was the rec room. 'And did you remember to renew your car tax?' Magda is the scattiest person I know – several times I've seen her looking for a resident's file or a cup of tea or her glasses, when they're actually in her hand at the time. I help her out as best I can – she calls me her human Filofax, which Julie the kitchen coordinator (twenty- seven, loves acrylic nails and her phone, hates vegans and anyone with dietary requirements), says makes her sound 'dead ancient, like from the eighties or something'.
'Oh, fudging hell, I didn't.' Magda doesn't like to swear in front of the residents, as if they're children instead of adults in their seventies and eighties. 'Do you have a pen?'
'Um, there's some in your . . . ' Too late, she had taken mine from my scrubs pocket and scrawled a note on her hand, then shoved my pen into her hair, making five in total. 'Different how?' I asked again, saying a quiet farewell to the pen, which had been one of my favourites (style 99E, ballpoint, branded with the NatWest logo). We've had all sorts of residents over the years. All different nationalities, languages, religions – even Mr Smith the Satanist, who was very sweet if you ignored the smell from his room.
'Well, he's got no memory at all. The police found him wandering down the M25, no phone or ID, no keys or cash or anything. He can't remember his name or where he lives or – you know, anything.'
I nodded. This was unusual, but not as much as you'd think. 'Oh, and he's . . . '
Behind her, dressed in clean blue scrubs, and carrying a small Tesco bag of possessions, was the most handsome man I had ever seen in my life (bumping to number 2 actor Jonny Dunne, who I spotted when I worked for a week as a waitress in a Pizza Express in Covent Garden, and to number 3 an unknown man I saw busking at Leeds train station in 1997). The new resident wasn't much more than forty, I was sure, and had a faint red mark on his forehead, like an injury. And he was smiling, nervously but sincerely. 'Hello.'
'He's so young!' I blurted to Magda. That really did make him unusual. The youngest resident we had otherwise was Mrs Burke, who was only sixty- eight but had already forgotten her husband and all her children, everyone except the family Pekinese, Roger, who she asked after on a daily basis.
Magda said, 'He'll be staying here until they can find out who he is. They need the hospital bed he was in, and he's nowhere else to go. Lovie, this is Eve, who'll take care of you.'
'Hello.' He took my hand and shook it firmly, then looked at his own, as if slightly confused at what he'd just done. His was large and square, with long fingers. 'I'm – sorry, I don't know my name. But I'm very pleased to meet you. This is – I'm sure it's a lovely place.'
Magda and I exchanged a quick look. We try to make SILC as nice as we can, but our budget is about 10p a day per resident, and there's no disguising the constant smell of boiled food and bodily fluids.
'Did he hit his head?' I asked her quietly.
'They don't know. He can't remember a thing.'
'There's nothing they can do?'
Magda shook her head, making a pen fly out of her hair. It was yellow, with bumblebees printed on it. I caught it like a baseball fielder (there are seven of these on a baseball team, did you know? Four infielders and three outfielders) before it took someone's eye out. 'They don't know how to make memories come back, lovie.'
Or make them go away. I of all people should know that.
So we've got him till he remembers or the police work out who he is. Someone'll report him missing, I'm sure.'
A handsome, young-ish man? Someone like that would surely have a whole world of people missing him. Colleagues,
friends, a family.
'Does he really have no name? I can't just call him nothing.' I watched him bumble across the room, shaking hands with residents. Most of them irritably told him to get out of the way of the TV, which was showing Location, Location, Location, a popular choice here (I think the residents enjoy the schadenfreude that they'd all been able to buy their houses for ten pounds back in the 1950s, while these poor suckers on TV are paying half a million for a cupboard in South London). One or two burst into tears, a standard response to anything new, and Miss Cole shyly handed him a half- chewed biscuit.
Magda said, 'The police call him Adam. It's a joke! Adam and Eve, ha ha!'
I laughed dutifully, although I didn't think it was all that funny. Adam and Eve are perfectly good names, and it's just a shame that some mythological people who couldn't control themselves have ruined it for the rest of us.
Magda leaned in closer, so that I could see the cracks in her bright pink lipstick. 'I thought you could make him your next client.'
I lowered my gaze. A mistake, because it only let me see how dirty the carpet was. After lunch it all gets a bit 'feeding the cow to the raptors' in here (Jurassic Park, 1993). 'I don't know, Magda. My plate's a bit full at the moment.' The truth was, the idea of making Adam a client terrified me. Maybe because he didn't know me yet. Didn't know what I could do, the things that made me different. The idea of letting him find out those things made me want to bolt for the hills, out the smudged patio door and down the road past the housing estate, keep going to the M25 and on to the coast. It was one thing working with the other residents; most of them were never going to recover, and their knowledge of what I could do would be forgotten with them. The risks were low. Adam was different. He would hopefully return to himself, go back to his life. And then he might tell someone, and they'd tell someone else, and before I knew it I could lose everything I'd built so carefully for almost twenty years.
Magda looked disappointed and I felt a stab of guilt. 'Suit yourself, lovie. But if you change your mind, he's going to be with us for the foreseeable. Oh, and I think Mrs O'Reilly's had an accident, can you clear it up?'

The first thing I remember is yellow. A yellow dress, a yellow square of sun on the carpet. Yellow Lego bricks. Then later, a waffle- knit blanket, the kind you might drape on a baby's cot, in the same soft yellow as ducklings or the first sunshine of spring. Although I was six, someone had placed this blanket over me, maybe to soften the stark whiteness of the hospital bed I was in. Bits of me hurt in a way I was confused about – my hands, my stomach. I felt . . . rearranged. My brain was hurting too, but I didn't understand if that was on the inside or the outside. There were people at the door, and I can't remember their faces or if they were men or women, but I remember what they said.
Has she been told yet?
No. Poor little thing. Nothing'll ever be the same now.
'A touching and thought-provoking page-turner about love, friendship, and the many ways in which our past defines our present. Intriguing, heartfelt and sensitively-told, I found it hard to put down and was sad to say goodbye to the characters when I'd finished.' Holly Miller, author of The Sight of You

Eve and Adam are meant to be, they just don't know it yet...

*

What if you could remember every last detail of your life?

Eve knows what her colleagues had for lunch last April. She remembers everyone who has stayed at the care home where she works, long after they've gone. Her life is small and meticulously managed.

And what if you couldn't even remember your name?

'Adam' is found wandering down the central reservation of the M25. He has no memory of how he came to be there and no clue who he is.

As Eve works with Adam to help him discover who he once was, her world begins to open up - beyond the care home, beyond her memories.

But as Adam finally begins to remember his past, will there be room for Eve in his future?

*

Praise for Eva Woods and her novels:

'Bittersweet' Tasmina Perry
'Uplifting' Clare Mackinstosh
'Smart' Emylia Hall
'Joyful' Rosie Blake
'Touching' Daisy Buchanan
'Full of wisdom' Katie Fforde
'Heart-warming and touching' Best