Introducing: Dialogue Book Lounge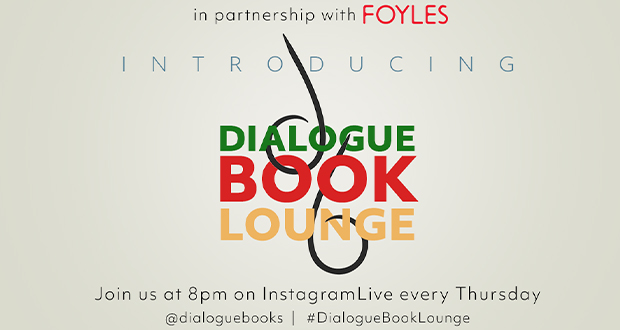 Publisher Sharmaine Lovegrove has launched a new virtual book club in which she will be in conversation with a Dialogue Books author about their book on Instagram Live every Thursday at 8pm GMT between 26th March and 28th May 2020.
It will take a multi-channel approach, with each book to be announced on a Friday morning in the imprint's dedicated newsletter as well as via Twitter and Instagram. The format for the book club, held the following Thursday, will then see the chosen author read an extract for 10 minutes after which there will be a wide-ranging discussion about the story, editing, characters and publishing. Questions will be answered in real time with the aim being to make the book club "as interactive as possible in a bid to support people through this tricky time and allow them to connect with readers over their love of and interest in [Dialogue's] stories".
Dialogue is collaborating with Foyles to offer readers a 20% discount on all books on the reading list via their website, whether you purchase one, a handful or the entire reading list! Just add 'DIALOGUE20' at checkout. Promising to be "fun, engaging and illuminating evening virtual fun" from the imprint, the Dialogue Virtual Book Lounge is intended to connect authors with both new and existing readers and help "provide structure and purpose during these uncertain times".
Lovegrove commented: "I have been running book events for over a decade and with millions of people at home wanting something else to think about this feels like the right time to reach out and invite people to join in the dialogue and enjoy our eclectic range of stories from the comfort of your sofa, and spark a conversation with our brilliant array of inspirational Dialogue Books authors."
Sign up to the Dialogue Books newsletter or follow them on Twitter and Instagram for updates. See you there at 8pm GMT on Thursday!