Alight here for brilliant books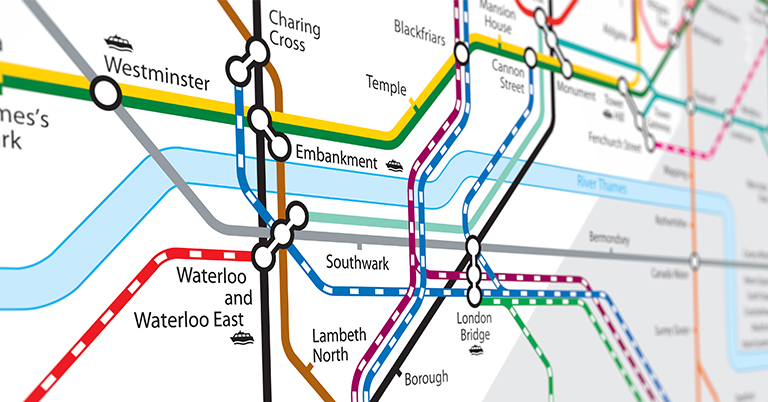 What springs to mind when you think about the tube?
Sweating profusely no matter what time of year it is?
Being crushed into a stranger's armpit at rush hour on a Monday morning?
Waiting expectantly for the the District line for six whole minutes, even though the arrival board promised it would be there in two?
Walking in a futile circle around the panopticon maze of Bank and Monument Stations until you eventually resign yourself to the fact that you will never escape, slumping to the floor and covering yourself with discarded Metros – you are one with the station now.
We've certainly all got our fair share of tube woes, but In The Book have come up with an innovative idea that might help you shed your travel stress and see the London Underground in a whole new light.
London is a city like no other, and the same goes for its literature. In The Book have replaced the names of stations on TFL's tube map with iconic staples of London literature that were set in those areas and we're delighted to see some of Little, Brown's titles dotted about the city! 
The result is a comprehensive geographical mapping of London's greatest novels and poems throughout history. From Defoe's A Journal of the Plague Year depicting the disease-ridden city of the 17th century, right up to Robert Galbraith's The Cuckoo's Calling as Bond Street colouring modern day Mayfair, we feel that writing has a unique way of painting surroundings like nothing else.

For instance, we found it fascinating how certain genres and authors were married with certain parts of the map: Dickens' London dominates the Central Line, while gothic Victorian works Dracula, Dr. Jekyll and Mr. Hyde and The Picture of Dorian Gray can all be found haunting the Piccadilly Line. Zadie Smith's works were located on the northwest Jubilee Line while Martin Amis' novels were more prominent around West London.
To view an expandable version of the map please visit the In The Book.
How many of our Little, Brown titles did you spot?