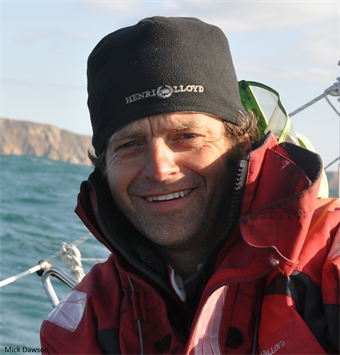 Mick Dawson was born in Boston, Lincolnshire, on the east coast of England in 1964. After leaving school in 1980, he joined the Royal Marines, in which he served for eleven years before moving on to a career as a professional sailor skippering private yachts around the globe. Looking for a challenge in 2001, he rowed across the Atlantic Ocean together with his brother, Steve. In the eight years that followed, Mick became one of the most experienced and successful ocean rowers in the world, completing a second transatlantic row and attempting two solo rows across the North Pacific Ocean. Finally, in 2009, along with his friend and rowing partner Chris Martin, he successfully rowed across the North Pacific from Choshi, Japan, to the Golden Gate Bridge in San Francisco a voyage of nearly six-and-a-half months of rowing and a total of almost 7,000 miles. He and Chris hold a Guinness World Record as the first team to row the Pacific Ocean from West to East. It is one of the last great firsts. Mick now lives in East Sussex with his partner Natalie. His new project, The Cockleshell Endeavour,
http://www.cockleshellendeavour.com
, in conjunction with the Royal Marines Kayaking Association, is designed to assist former and serving service personnel who are struggling with post-traumatic stress disorder or physical injuries. The project also raises money for the Royal Marines Charity,
http://www.theroyalmarinescharity.org.uk
Since writing this book, having previously dismissed the possibility of another rowing adventure, Mick has none the less successfully rowed the Pacific Ocean once more. Rowing from Monterey Bay to Honolulu with his friend and blind veteran Steve Sparkes. Another world first as 'Sparky' became the first visually impaired person to have rowed the Pacific. Mick is a filmmaker, motivational speaker, and author. He still sails professionally and doesn't rule out further adventures.
http://www.189days.com
Read More
By the Author
Storms, fatigue, equipment failure, intense hunger, and lack of water are just a few of the challenges that ocean rower Mick Dawson endured whilst attempting…