OurShelves with special guest Claire Oshetsky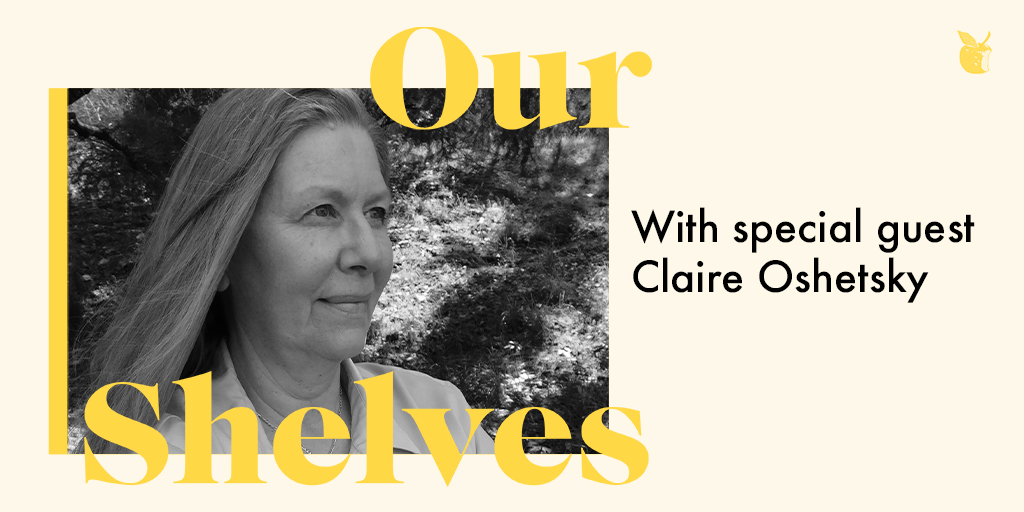 OurShelves: with Claire Oshetsky
Do we see being a carer as a feminist failure?
 Claire Oshetsky's new novel Chouette is about raising a non-conforming child, represented by a wild but lovable owl-baby. She talks with Lucy Scholes about how wrapping what started out as a memoir in a fantastical world made it possible to be honest, especially about the violence of motherhood. They compare their favourite books about feral children, discuss the role of white feminism in the Afghanistan war, and celebrate the trans women she admires.
On the nightstand – books that are currently on your bedside table
Real Life by Adeline Dieudonné, translated by Roland Glasser.
I lead an online discussion of this novel in September. I love the novel and would love for it to find more readers, and I'm not-so-secretly hoping that it will give us a fine excuse to talk about the amazing Barbara Comyns too. Real Life reminds me in so many ways of The Vet's Daughter. The fictional families have some eerie similarities—if you haven't read Real Life yet, then you'll see what I mean in the first paragraph.
Against White Feminism: Notes on Disruption by Rafia Zakaria.
I'm halfway through this book, and I'm finding Zakaria's writing to be both refreshingly blunt and unapologetically erudite. I'm interested in learning more about how my experiences as a white Western person limits my understanding of feminism, and I'm interested in learning more about the ways our assumptions about each other—what divides us, what we have in common—need mending. This book addresses both of these questions.
On your mind – a recent article, podcast, film, series or song
I've just watched Lingua Franca directed by Isabel Sandoval and it's on my mind. Here is a lovely interview with the director: https://www.rogerebert.com/interviews/subversive-sensuality-isabel-sandoval-on-lingua-franca
The film reminded me (again) of how infrequently contemporary art focuses on the plight of the poor. It's a remarkable, humane film. The last novel I read that took such a thoughtful and humane fictional look at the plight of illegal immigrants in the US was Preparation for the Next Life by Atticus Lish (November 2014: Tyrant Books).
On the shelf – one book that made you think about feminism in a new way
The First Wife: A Tale of Polygamy by Paulina Chiziane, translated by David Brookshaw.
Also published as: Niketche: A Story of Polygamy by Paulina Chiziane translated by Richard Bartlett. (out of print) UK: Aflame Books, 2010.
Originally published in Portuguese as Niketche: Uma História de Poligamia in 2002.
I read this novel when Archipelago first published it in English translation in 2016 and I've read it four times since. Paulina Chiziane is nearly my contemporary, but our life experiences have been so different—among other things she has lived through thirty years of civil war and she was the first woman in Mozambique to publish a novel. Those two facts alone make Paulina Chiziane's life and politics nearly inconceivable to me. It's certainly a feminist novel and the first time I read the novel I remember thinking, "oh, I get this," in that it's very humorous, and very easy to love, but I would never say that reflexively now—as I become more familiar with the novel, I've also become more aware of what I don't understand about its inner workings or about the culture it reflects or the challenges its female characters face. I'm more aware of what's outside of my experience.
On the pedestal – tell us about one person (woman or non-binary) you admire
Jan Morris. I've just read her posthumously published book Allegorizings and found it to be full of wisdom, and I recently read Conundrum (1974) and also, what a life!
Tune in next time for more conversation about books, feminism and culture.
Never miss an episode – subscribe to OurShelves wherever you listen to podcasts.