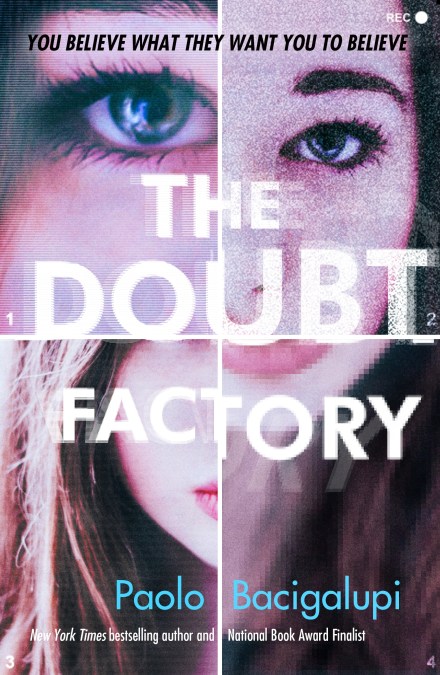 The Doubt Factory
Everything Alix knows about her life is a lie–at least according to the mysterious young man who's been stalking her. But could her dad really be a bad guy at the helm of an organization that covers up the deadly wrongdoings of some of the country's most rich and powerful? Alix has to make an impossible choice between her father and the young man she's not only falling for, but who's asking her to blow the whistle on the man who raised her. Could someone you have loved and have known for your whole life actually have the heart of a killer?
Read More
Reviews
[A] provocative thriller.... Fans of Cory Doctorow's work should love this book.
A suspenseful, page-turning yarn.... Bound to provoke thought.
A searing indictment... Bacigalupi, unafraid to name names, makes readers question the morality of everyday decisions... and recommends that all of us be cynics when it comes to megaconglomerates....Multi-award-winning Bacigalupi is becoming an indispensable voice in YA.
From the opening pages, this is an action-packed thriller with the FBI, secret service, thousands of rats, a kidnapping, and a little romance.... Bacigalupi scores again.
An exciting read... Bacigalupi has done an impressive job of placing the reader in the front seat.
This is a gripping, unsettling read that will no doubt prompt further discussion long after the climactic, cinematic finale.
A powerful, impassioned novel that asks some uncomfortable questions
A plot so expertly turned that you'll be nailed to your seat
According to a criminal, everything Alix knows about her life is a lie. Drawn into his trap, she uncovers the devastating truth behind her father's role in The Doubt Factory