Read an extract from Pulitzer Prize winning The Night Watchman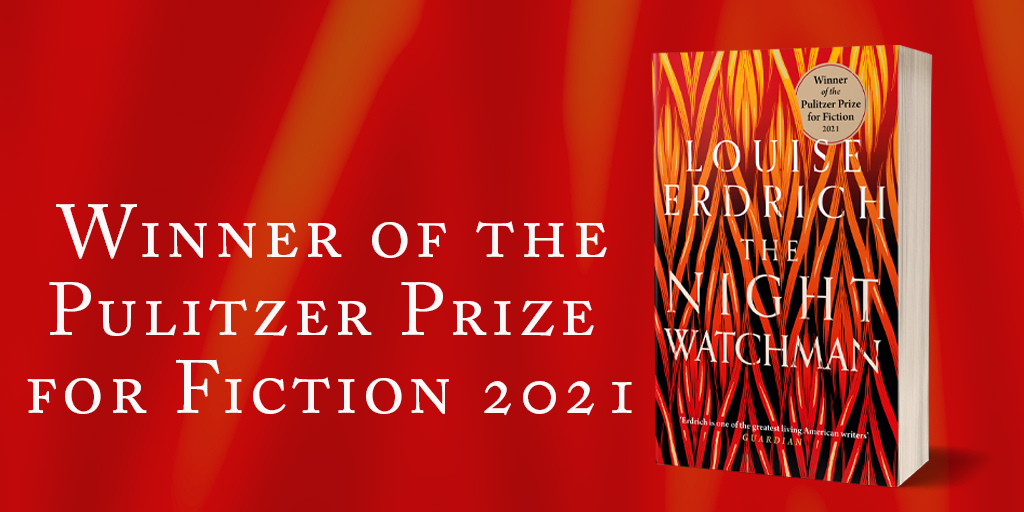 AUTHOR' S NOTE
On August 1, 1953, the United States Congress announced House Concurrent Resolution 108, a bill to abrogate nation-to-nation treaties, which had been made with American Indian Nations for "as long as the grass grows and the rivers flow." The announcement called for the eventual
termination of all tribes, and the immediate termination of five tribes, including the Turtle Mountain Band of Chippewa.
My grandfather Patrick Gourneau fought against termination as tribal chairman while working as a night watchman. He hardly slept, like my character Thomas Wazhushk. This book is fiction. But all the same, I have tried to be faithful to my grandfather's extraordinary life. Any failures are my own. Other than Thomas, and the Turtle Mountain Jewel Bearing Plant, the only other major character who resembles anyone alive or dead, is Senator Arthur V. Watkins, relentless pursuer of Native dispossession and the man who interrogated my grandfather.
Pixie, or—excuse me—Patrice, is completely fictional.
Turtle Mountain Jewel Bearing Plant
Thomas Wazhushk removed his thermos from his armpit and set it on the steel desk alongside his scuffed briefcase. His canvas work jacket went on the chair, his lunch box on the cold windowsill. When he took off his padded tractor hat, a crab apple fell from the earflap. A gift from his daughter Fee. He put it out on the desktop to admire. Then punched his time card. Midnight. He picked up the key ring, a company flashlight, and walked the perimeter of the main floor.
In this quiet, always quiet expanse, Turtle Mountain women spent their days leaning into the hard light of their task lamps. The women pasted micro-thin
slices of ruby, sapphire, or the lesser jewel, garnet, onto thin upright spindles in preparation
for drilling. The jewel bearings would be used in Defense Department ordnance and in Bulova watches. This was the first time there had ever been manufacturing jobs near the reservation, and women filled most of these coveted positions. They had scored much higher on tests for manual dexterity.
The government attributed their focus to Indian blood and training in Indian beadwork. Thomas thought it was their sharp eyes — the women of his tribe could spear you with a glance. He'd been lucky to get his own job. He was smart and honest, but he wasn't young and skinny anymore. He got the job because he was reliable and he knocked himself out to do all that he did as perfectly as he could do it. He made his inspections with a rigid thoroughness.
As he moved along, he checked the drilling room, tested every lock, flipped the lights on and off. At one point, to keep his blood flowing, he did a short fancy dance, then threw in a Red River jig. Refreshed, he stepped through the reinforced doors of the acid washing room, with its rows of numbered beakers, pressure dial, hose, sink, and washing stations. He checked the offices, the green-and-white-tiled bathrooms, and ended up back at the machine shop. His desk pooled with light from the defective lamp that he had rescued and repaired for himself, so that he could read, write, cogitate, and from time to time slap himself awake.
Thomas was named for the muskrat, wazhushk, the lowly, hardworking, water-loving rodent. Muskrats were everywhere on the slough-dotted reservation. Their small supple forms slipped busily through water at dusk, continually perfecting their burrows, and eating (how they loved to eat) practically anything growing or moving in a slough. Although the wazhushkag were numerous and ordinary, they were also crucial. In the beginning, after the great flood, it was a muskrat who had managed to remake the earth.
In that way, as it turned out, Thomas was perfectly named.
Lard on Bread
Pixie Paranteau dabbed cement onto a jewel blank and fixed it to the block for drilling. She plucked up the prepared jewel and placed it in its tiny slot on the drilling card. She did things perfectly when enraged. Her eyes focused, her thoughts narrowed, breathing slowed. The nickname Pixie had stuck to her since childhood, because of her upturned eyes. Since graduating high school, she was trying to train everyone to call her Patrice. Not Patsy, not Patty, not Pat. But even her best friend refused to call her Patrice. And her best friend was sitting right next to her, also placing jewel blanks in endless tiny rows. Not as fast as Patrice, but second fastest of all the girls and women. The big room was very quiet and rafts of sun came through the windows. Her heartbeat slowed. No, she was not a Pixie, though her figure was small and people said wawiyazhinaagozi, which was hatefully translated to mean that she looked cute. Patrice was not cute. Patrice had a job. Patrice was above petty incidents like Bucky Duvalle and his friends giving her that ride to nowhere, telling people how she'd been willing to do something she had not done. Nor would she ever. And just look at Bucky now. Not that she was to blame for what happened to his face. Probably. Not. Patrice didn't do those kinds of things. Patrice would also be above finding the brown bile of her father's long binge on the blouse she'd left drying in the kitchen. He was home, snarling, spitting, badgering, weeping, threatening her little brother, Pokey, and begging Pixie for a dollar, no, a quarter, no, a dime. Even a tiny dime? Trying to pinch his fingers and his fingers not meeting together. No, she was not that Pixie who had hidden the knife and helped her mother haul him to a cot in the shed, where he would sleep until the poison drained out.
That morning, Patrice had put on an old blouse, walked out to the big road, and for the first time caught a ride with Doris Lauder and Valentine Blue. Her best friend had the most poetical name and wouldn't even call her Patrice. In the car Valentine had sat in front. Said,
"Pixie, how's the backseat? I hope you're comfortable."
"Patrice," said Patrice.
Nothing from Valentine.
Valentine! Chatting away with Doris Lauder about how to make a cake with coconut on top. Coconut. Was there a coconut patch somewhere in a thousand square miles? Valentine. Wearing a burnt orange–gold circle skirt. Pretty as a sunset. Never even turning around. Flexing her hands in new gloves so that Patrice could see and admire, though from the backseat. And then with Doris exchanging tips on getting a stain of red wine from a napkin. As if Valentine had ever owned a napkin? And drank red wine except out in the bush? And now treating Patrice like she didn't even know her because Doris Lauder was a white girl new to the jewel plant, a secretary, and using her family car to get to work. And Doris had offered to pick up Valentine and Valentine had said, "My friend Pixie is on the way too, if you . . ."
And included her, which was what a best friend should do, but then ignored her and refused to use her real name, her confirmation name, the name by which she would—maybe embarrassing to say but she thought it anyway — the name by which she would rise in the world.
Mr. Walter Vold stepped down the line of women, hands behind his back, lurkishly observing their work. He left his office every few hours to inspect each station. He wasn't old, but his legs were thin and creaky. His knees jerked up each time he took a step. There was an uneven scratching sound today. Probably his pants, which were black and of a shiny stiff material. There was the squeak of shoe edge against the floor. He paused behind her. In his hand, a magnifying glass. He leaned his sweaty shoebox jaw over her shoulder and breathed stale coffee. She kept working, and her fingers didn't shake.
"Excellent work, Patrice."
See? Ha!
He went on. Scratch. Squeak. But Patrice didn't turn and wink at Valentine. Patrice didn't gloat. She could feel her period starting, but she'd pinned a clean folded rag to her underwear.
Even that. Yes, even that.
At noon, the women and the few men who also worked in the plant went into a small room where there was supposed to be a cafeteria. It contained a full kitchen, but cooks had not yet been hired to prepare lunch, so the women sat down to eat the food they had brought. Some had lunch boxes, some had lard buckets. Some just brought dishes covered with a flour sack. But usually those were to share. Patrice had a syrup bucket, yellow, scraped to the metal, and full of raw dough. That's right. She had grabbed it going out, so rattled by her father's raving that she'd run out the door, forgetting that before breakfast she had meant to cook the dough into gullet bread using her mother's frypan. And she hadn't even eaten breakfast. For the past two hours she'd been sucking in her stomach, trying to quell the growls. Valentine had of course noticed. But now she was of course talking to Doris. Patrice ate a pinch of dough. It wasn't bad. Valentine looked into Patrice's bucket, saw the dough, and laughed.
"I forgot to cook it," said Patrice.
Valentine looked pityingly at her, but another woman, a married woman named Saint Anne, laughed when she heard what Patrice said. Word went out that dough was in Patrice's bucket.
That she'd forgotten to cook it, bake it, fry it. Patrice and Valentine were the youngest girls working on the floor, hired just out of high school. Nineteen years old. Saint Anne pushed a buttered bun across the table to her. Someone handed an oatmeal cookie down the line. Doris gave her an entire banana. Patrice had made a joke. Patrice was about to laugh and make another joke.
"All you ever have is lard on bread," said Valentine.
Patrice shut her mouth. Nobody said anything. Valentine was tryng to say that was poor people food. But everybody ate lard on bread with salt and pepper.
"That sounds good. Anybody have a piece?" said Doris.
"Break me off some."
"Here," said Curly Jay, who got her name for her hair when she was little. The name stuck even though her hair was now stick-straight.
Everybody looked at Doris as she tried the lard on bread.
"Not half bad," she pronounced.
Patrice looked pityingly at Valentine. Or was it Pixie who did that? Anyway, lunchtime was over and now her stomach wouldn't growl all afternoon. She said thank you, loudly, to the whole table, and went into the bathroom. There were two stalls.
Valentine was the only other woman in the bathroom. Patrice recognized her brown shoes with the scuffs painted over. They were both on their times.
"Oh no," said Valentine through the partition. "Oh, it's bad."
Patrice opened her purse, struggled with her thoughts, then handed one of her folded rags beneath the wooden divider. It was clean, white, bleached. Valentine took it out of her hand.
"Thanks."
"Thanks who?"
A pause.
"Thank you damn well much. Patrice." Then a laugh. "You saved my ass."
"Saved your flat ass."
Another laugh. "Your ass is flatter."
Crouched on the toilet, Patrice pinned on her new pad. She wrapped the used one in toilet paper and then in a piece of newspaper that she'd kept for this purpose. She slipped out of the stall, after Valentine, and thrust the rag pad down deep into the trash bin. She washed her hands with powdered soap, adjusted the dress shields in her armpits, smoothed her hair, and reapplied her lipstick. When she walked out, most of the others were already at work. She flew into her smock and switched on her lamp.
By the middle of the afternoon, her shoulders began to blaze. Her fingers cramped and her flat ass was numb. The line leaders reminded the women to stand, stretch, and focus their eyes on the distant wall. Then roll their eyes. Focus again on the wall. Once their eyes were refreshed they worked their hands, flexing them backward, kneading their swollen knuckles. Then back to the slow, calm, mesmeric toil. Relentlessly, the ache came back. But it was almost time for break, fifteen minutes, taken row by row, so that everyone could use the bathroom. A few women went to the lunchroom to smoke. Doris had prepared a precious pot of coffee. Patrice drank hers standing, holding her saucer in the air. When she sat down again she felt better and went into a trance of concentration. As long as her shoulders or back didn't hurt, this hypnotic state of mind could carry her along for an hour and maybe two. It reminded Patrice of the way she felt when beading with her mother. Beading put them both into a realm of calm concentration. They murmured to each other lazily while they plucked up and matched the beads with the tips of their needles. In the jewel plant, women also spoke in dreamy murmurs.
"Please, ladies."
Mr. Vold forbade speech. Still, they did speak. They hardly remembered what they said, later, but they talked to one another all day. Near the end of the afternoon, Joyce Asiginak carried the new boules out for slicing and the process kept going and kept going.
WINNER OF THE PULITZER PRIZE IN FICTION 2021

NEW YORK TIMES BESTSELLER

It is 1953. Thomas Wazhushk is the night watchman at the first factory to open near the Turtle Mountain Reservation in rural North Dakota. He is also a prominent Chippewa Council member, trying to understand a new bill that is soon to be put before Congress. The US Government calls it an 'emancipation' bill; but it isn't about freedom - it threatens the rights of Native Americans to their land, their very identity. How can he fight this betrayal?

Unlike most of the girls on the reservation, Pixie - 'Patrice' - Paranteau has no desire to wear herself down on a husband and kids. She works at the factory, earning barely enough to support her mother and brother, let alone her alcoholic father who sometimes returns home to bully her for money. But Patrice needs every penny to get if she's ever going to get to Minnesota to find her missing sister Vera.

In The Night Watchman multi-award winning author Louise Erdrich weaves together a story of past and future generations, of preservation and progress. She grapples with the worst and best impulses of human nature, illuminating the loves and lives, desires and ambitions of her characters with compassion, wit and intelligence.