Books with Heart – Eleanor Ray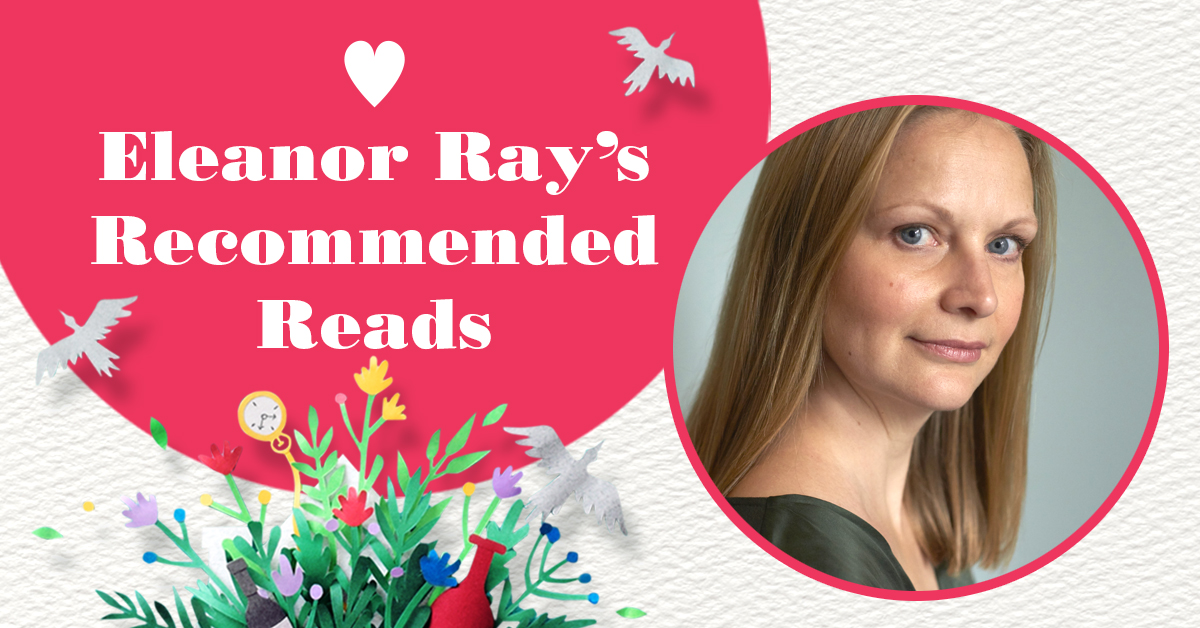 I love books that make me feel better about people. Stories can be dark and mysterious and full of danger, but by the time I've finished reading, I like to feel a warm glow – to know that redemption is possible. That warm feeling lingers afterwards, like a nice hot chocolate or a lovely hug. And at a time when hot chocolates have often had to be takeaway and hugs are few and far between, it's more important than ever.
That's why I'm a big fan of Joanna Cannon's books, my favourite being The Trouble with Goats and Sheep. She shows humanity with all its faults and pitfalls, but this comes hand-in-hand with kindness, affection and the power of community. Joanna Nell's The Single Ladies of Jacaranda Retirement Village does the same – whatever a character's age and circumstances, there is always capacity for laughter. Eleanor Oliphant for me is a perfect book and I re-read it all the time – the humour, the heartache, the prospect of recovery.
That's why I'm a sucker for a good love story too. It can be terribly sad– like Holly's Miller's The Sight of You – but even so, the relationship are so beautifully depicted that ultimately it's uplifting. Lorna Cook's sweeping timeslip novels, such as The Forgotten Village, show love spanning the ages and make me pleased to be alive. Anna Cookson's The Sound of your Soul tells an amazingly imaginative, lyrical tale of love in a post-apocalyptic London.
I enjoy cosy crime for this same reason.  Dark things happen and there's a mystery to keep the pages turning, but they have a warmth too. The crimes may be terrible, but we don't linger there, moving swiftly along to the detectives showing their humanity. These books frequently take us to another time and place. A few of my favourites are Vaseem Khan's Baby Ganesh series with a baby elephant helping his detective in India, LC Tyler's John Grey mysteries which transport us to the seventeenth century and Fliss Chester's world war II murder mysteries. A different world to the one we live in today, but the same heart.
There are some books I just want to read again and again, and it's always because of the characters. One Day by David Nicholls is a masterclass on writing relationships, with his protagonists' love for each other shining through despite all their faults and foibles. In a time when human interactions have been limited, I love it when books remind me why, ultimately, people are better when they are together.
– Eleanor Ray
'This book took hold of me and wouldn't let me go until I turned the final page' BETH O'LEARY

'Funny, tender and uplifting' BBC RADIO 4

'Beautifully written and thought-provoking' KATIE FFORDE

'This is one of those books you just want to gulp down in one' GOOD HOUSEKEEPING

__________________________________________

When Amy Ashton's world fell apart eleven years ago, she started a collection.

Just a few keepsakes of happier times: some honeysuckle to remind herself of the boy she loved, a chipped china bird, an old terracotta pot . . . Things that others might throw away, but to Amy, represent a life that could have been.

Now her house is overflowing with the objects she loves - soon there'll be no room for Amy at all. But when a family move in next door, a chance discovery unearths a mystery, and Amy's carefully curated life begins to unravel. If she can find the courage to face her past, might the future she thought she'd lost still be hers for the taking?

Perfect for fans of Eleanor Oliphant and The Keeper of Lost Things, this exquisitely told, uplifting novel shows us that however hopeless things might feel, beauty can be found in the most unexpected of places
__________________________________________

Everyone is talking about Eleanor Ray:

'Perfect for fans of Eleanor Oliphant' Candis

'Inspiring' Vogue

'A total treat of a read - warm, enchanting and intriguing' Holly Miller, author of The Sight of You

'Like the objects Amy collects, this novel is a treasure all of its own' Woman

'A joy to read, and very beautiful indeed' Lisa Dickenson, author of The Twelve Dates of Christmas

'Uplifting' Sunday Express

'Beautifully written and full of compassion, kindness and hope' Irish Independent

'A gorgeous, warm hug of a novel' Sinead Moriarty, author of A Perfect Match

'A tonic for the soul' Lesley Kara, author of The Rumour

'Charming' Claire Kendal, author of The Book of You

'Eleanor Ray has perfectly captured how it feels to not quite fit in' M W Craven, author of The Puppet Show

'A wonderful celebration of the power of kindness' Hannah Tovey, author of The Education of Ivy Edwards

'Heart-warming and thought-provoking' Andrea Mara, author of The Other Side of the Wall

'I relished it from start to finish' Amanda Robson, author of Obsession

'Dazzling' My Weekly

'A wonderfully huggable and uplifting debut' Love Reading