Actor Allan Corduner to Narrate Last Surviving Nuremberg Trials Prosecutor's Book of Life Lessons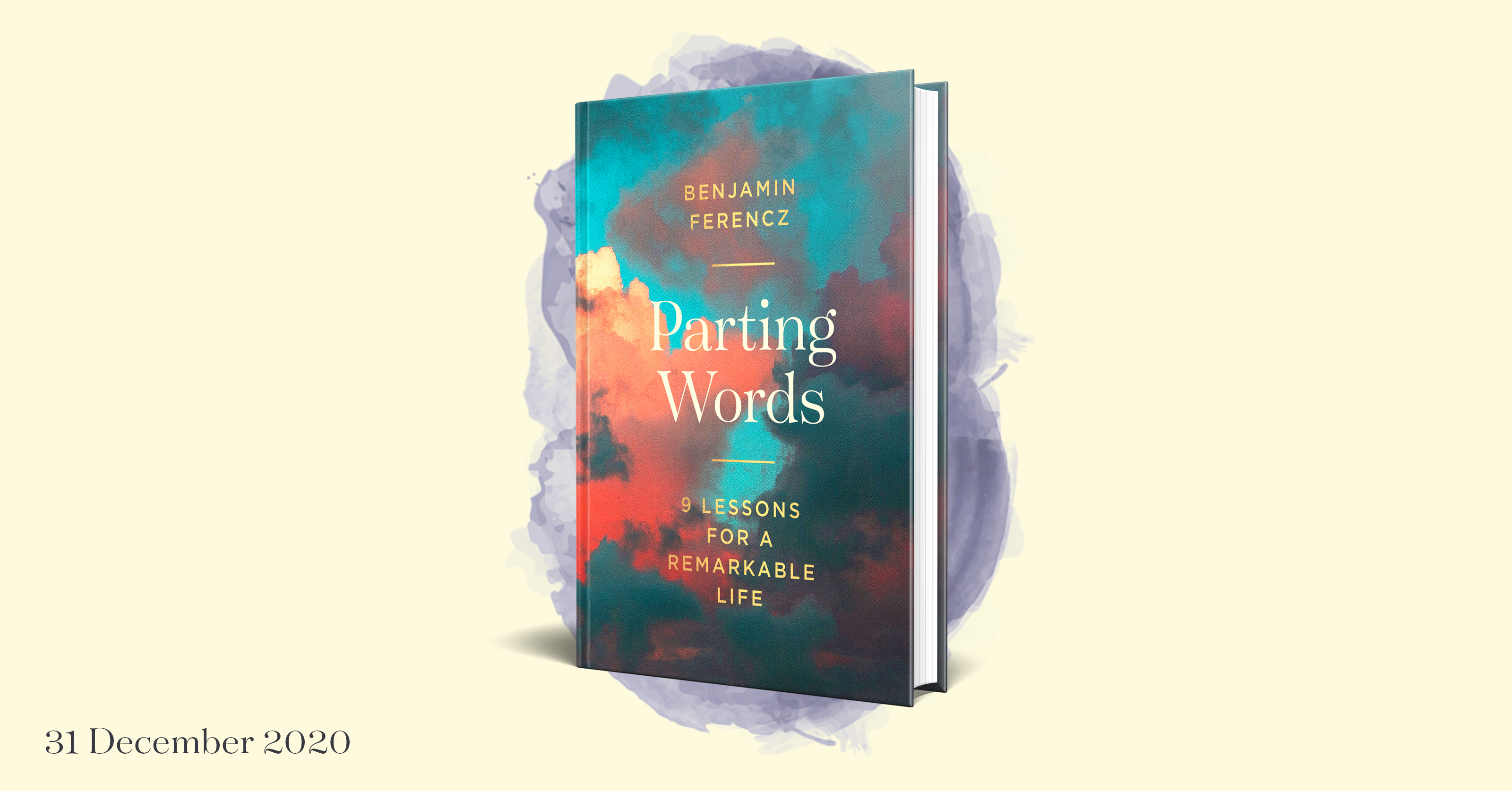 Emily Barrett, Editorial Director, Sphere, Little, Brown is thrilled to announce that Jewish actor Allan Corduner, whose previous audiobooks include Markus Zusak's The Book Thief and Anthony Horowitz's Magpie Murders, will narrate PARTING WORDS (publishing 31 December 2020) by 100-year-old human rights lawyer, Benjamin Ferencz.
PARTING WORDS: 9 LESSONS FOR A REMARKABLE LIFE tells the story of Benjamin's own remarkable life: from poor immigrant making mischief in 1920s New York; to Harvard graduate; WWII soldier; and exceptional human rights lawyer – who not only prosecuted 22 leading Nazis after his team uncovered one million murders committed by the Einsatzgruppen, but also (pro bono) helped victims who survived the Nazi regime reclaim their property and achieve compensation from the West German government, and then was instrumental in setting up the International Criminal Court with the aim of preventing world leaders from committing war crimes. Throughout his story Ben imparts the lessons he's learned throughout his life – from the subjects of ambition and determination, to happiness and love (he was married to his wife Gertrude for over 70 years until her death in 2019).
Ten foreign rights deals for the book have been concluded, and review quotes include Martin Freeman's: 'This book…is the stuff folk tales are made of. How wonderful that sometimes they are true', Heather Morris's: 'I don't know where to stop praising Benny and this amazing book', and Philippe Sands': 'Warm, wise and inspiring – a book for our times by one of the world's most remarkable human beings' alongside many others.
The book and audiobook will publish on 31 December 2020 to see readers into the New Year with motivation in spades; the perfect antidote to what has been a tumultuous year.
EMILY BARRETT, EDITORIAL DIRECTOR SAID: The Nuremberg Trials began 75 years ago this week and Ben is the last person alive who can share a first-person account of what it was like to prosecute at them; we need to be listening to what he has to say while we still can, especially as the battle against far-right and racist rhetoric is far from over. Allan shares Ben's Jewish Heritage and really understood the importance and brilliance of Ben's book – he's a perfect narrator for something this special. 2020 has been a year to fall in love with 100-year-old soldiers who've used their good-natured spirit to help their fellow humans; readers and listeners alike will be astonished at how much this sums up Ben Ferencz, and how much they can learn from his wit, warmth and optimism.
 ALLAN CORDUNER SAID: My maternal grandfather was taken from Berlin in November 1941 on one of the first transports to Riga, and within minutes of his arrival, lined up on the edge of a freshly dug trench with hundreds of others and shot dead. His crime? Being Jewish. So I am honoured to be reading Ben Ferencz's PARTING WORDS. Intolerance and racism are rife at present in our increasingly polarised world. This eloquent book must be read.
 About Benjamin Ferencz:
Benjamin Ferencz was born in 1920 in a country that no longer exists. He is a graduate of Harvard Law School and was awarded their medal of freedom in 2014 (the previous recipient had been Nelson Mandela). He was a prosecutor at the Nuremberg Trials, led efforts to return property to Holocaust survivors, participated in reparations negotiations between Israel and West Germany, and he was essential in the establishment of the International Criminal Court. He has four children by his wife Gertrude, who was his highschool sweetheart and who sadly passed away in 2019. He turned 100 in March 2020.
For translation enquiries, please contact Kate Hibbert or Andy Hine: kate.hibbert@littlebrown.co.uk / andy.hine@littlebrown.co.uk