Pre-order The Problem with Men to receive an exclusive signed bookplate and badge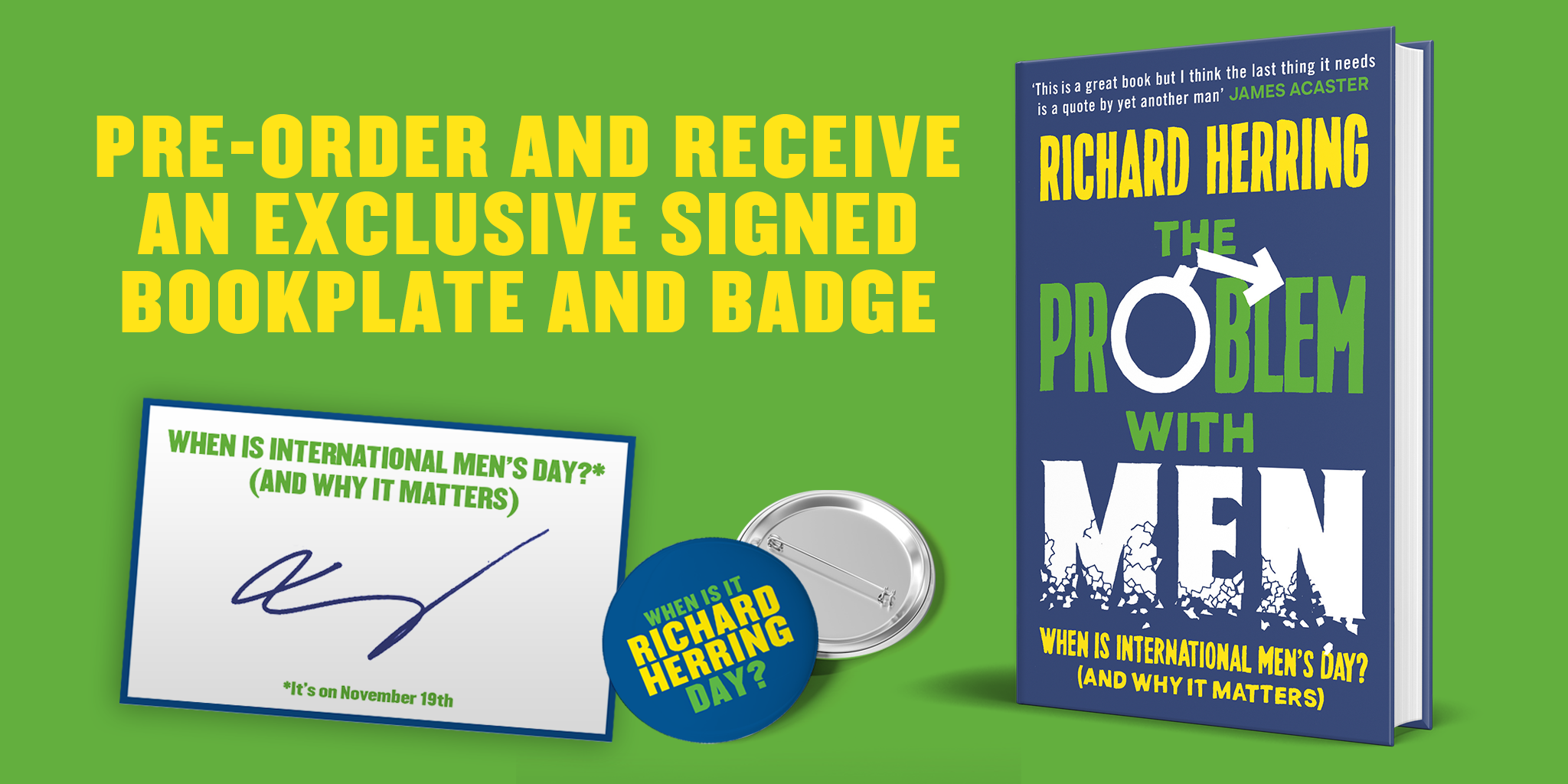 For the past decade, Richard Herring has been answering sexist trolls on International Women's Day when they ask 'when is International Men's Day?' in the mistaken belief there isn't one.
If only the trolls had learned to use Google they would realise that there is an International Men's Day – it's on November 19th.
In The Problem with Men Richard expands on his Twitter discussions and tackles some of the big questions surrounding the problems of toxic masculinity – for women, but also for men – including:
– Should men fear feminism?
– Is society sexist against men?
– Could you win a point against Serena Williams?
*spoiler*
The answer to all of these is no.
Pre-order a copy of The Problem With Men by Richard Herring and we'll send you an exclusive hand-signed bookplate and badge. Only available while stock lasts.
To receive your bookplate and badge, simply complete the below form and upload proof of your pre-order. Pre-orders of any format, including hardback, ebook and audiobook, and from any retailer will be elligible.
Terms and conditions apply, offer closes midnight 4 November 2020. The offer is first-come, first-served and only available while stocks last. Your book will be shipped by the retailer you ordered with. The signed bookplate and badge will be shipped separately and will arrive with you by no later than 30th November 2020. Please ensure any sensitive personal data is not included in your upload.
Terms and Conditions
1. This is a limited time, first-come, first-served offer to receive a bookplate signed by Richard Herring and a 58mm button badge. There are 250 bookplates and 250 badges available to be claimed.
2. This offer is only available while stocks last.
3. The offer opens at 12:01 am BST on 06.10.2020 and closes at 11:59 pm GMT on 04.11.20. Any claims received outside these specified times and dates will not be eligible.
4. The offer is open to residents of the United Kingdom, aged 18 or over except employees of the Company, their families, or anyone professionally connected to the offer either themselves or through their families.
5. Only one entry per person allowed. Second or subsequent entries will be disqualified. Entries will not be accepted via agents, third parties or in bulk.
6. The Company is not responsible for contacting or forwarding bookplates and badges to entrants who provide unclear or incomplete information or for claims lost, misdirected, delayed or destroyed.
7. The Company reserves the right to alter the pre-order rewards or cancel the offer without notice but will try to avoid creating any undue disappointment. No cash alternatives will be provided.
8. The Company is the data controller of Personal Data that it collects in the course of running the offer will use the Personal Data in accordance with the Company's Privacy Notice https://www.littlebrown.co.uk/imprint/little-brown/page/privacy-notice-general-little-brown/. It will use such Personal Data for the purposes of running the offer and delivering any reward items and will delete it after a reasonable period from the end of the prize draw. "Personal Data" means names of entrants and other details provided by them (e.g. email addresses, telephone numbers) for the prize draw. The Company will not share such Personal Data with any third parties except for the purpose of delivering the prize. The company will need to provide the winner's address and other relevant information to its distributor Hachette UK Distribution Limited.
9. By entering for the offer entrants agree to be bound by these terms and conditions.
10. This competition is being organised by Little, Brown Book Group Limited of Carmelite House, 50 Victoria Embankment, London EC4Y 0DZ ("Company").
11. These terms and conditions and any disputes or claims (including non-contractual disputes or claims) arising out of these terms and conditions shall be governed and construed in accordance with the laws of England, whose courts shall have exclusive jurisdiction.