Atom Lockdown Kitchen – Duncan's Crispy Fried Chicken recipe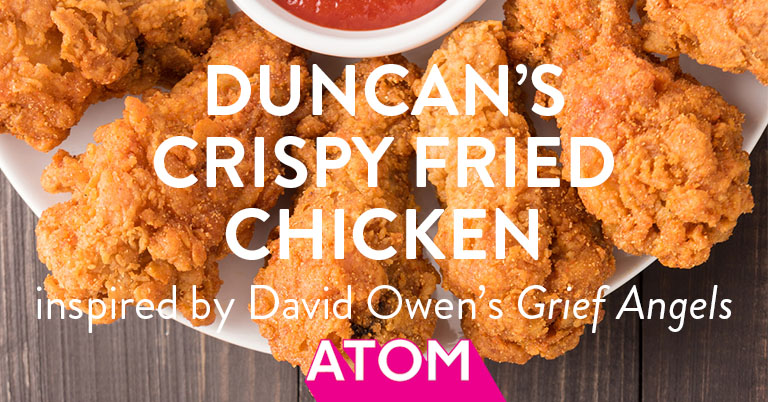 For many teenagers a trip to the chicken shop is a daily pilgrimage to bond over grease, chips and delicious fried chicken. And it's no different for Duncan and his mates, who take pleasure in finding the greasiest and most stomach-churning establishments they can. In David Owen's latest novel Grief Angels, these after school hangouts are less about the food and more about friendship. You'll have to read the book to find out more about Duncan. Here's our recipe for crispy fried chicken to satisfy your cravings while you're reading!
INGREDIENTS (serves 6)
2kg chicken thighs, drumsticks & wings (or a meat alternative)
700ml buttermilk
1tbsp salt
1tbsp ground black pepper
2-4tsp cayenne pepper
SPICE MIX
500g plain flour
4tbsp paprika
3tbsp ground white pepper
2tbsp garlic powder
1tbsp ground black pepper
1tbsp celery salt
1tbsp ground mustard
1tbps ground ginger
1tbsp onion powder
1/2 tbsp thyme
1/2 tbsp basil
1/2 tbsp oregano
1tsp salt
1tsp cayenne pepper
Vegetable oil for frying
METHOD
STEP 1
In a large bowl, combine the buttermilk, salt, pepper and cayenne pepper. Add the chicken to the bowl and coat it in the mixture. Let stand at room temperature for 2 hours or refrigerate for 4 hours.
STEP 2
In another large bowl, mix together the flour and spices.
STEP 3
Once the chicken is marinated, take a baking rack and place on top of baking parchment/foil. Remove chicken from the buttermilk one piece at a time, coat in spice mix and place on rack. Leave for 30 minutes to allow spice mix to stick to the chicken and form a dry crust.
STEP 4 (this step involves frying with hot oil, so ensure there's an adult present to help)
In a deep pan, heat an inch of vegetable oil (to about 160/170 C). Prepare a wire rack and cover with kitchen roll to absorb excess oil. Cook the chicken in batches. Fry each piece for around 14 minutes, turn once using kitchen tongs and fry until golden. Remove and check the centre of the thickest parts of each piece to ensure the meat is cooked through. The juice should run clear and a cooking thermometer should read 70 C. If you're using a meat alternative, each piece should take 2-4 minutes.
Transfer the chicken to the rack and wait 5 minutes before serving.
We recommend accompanying with coleslaw, corn on the cob and, of course, chips.
'Not many YA writers can combine authenticity with such tenderness, so raw at times it's painful. A unique premise told beautifully' Kiran Millwood Hargrave, author of The Mercies (via Instagram)

'A truly extraordinary and original book. Utterly gobsmackingly brilliant. I felt elated, heartbroken and uplifted by the beauty of it. Raw and written from the heart, it's a phenomenal read' Liz Hyder, author of Bearmouth

'A powerful meditation on grief and friendship' The i newspaper

--------------------------------------------------------------------------------------------

15-year-old Owen Marlow is experiencing a great, disorienting loss after his father suddenly passed away and his mother moved them to a new town. None of his old friends knew how to confront his grief, so he's given up on trying to make new ones. There is one guy at school who might prove to be different if he gives him a chance but lately, Owen has been overwhelmed by his sadness. He's started to have strange, powerful hallucinations of skeletal birds circling above him. Owen tells himself that these visions are just his brain's way of trying to cope - until one night, the birds descend and take him to an otherworldly forest. There, he is asked to go on a dangerous journey that promises to bring him the understanding he so desperately seeks - if he can survive it.

Grief Angels is an urgent and heartfelt look at the power of nostalgia and the many different forms of grief. It's about young men learning how to share their stories, and teens discovering who they are, and who they might one day become.