An Orchestra of Minorities: Extract #5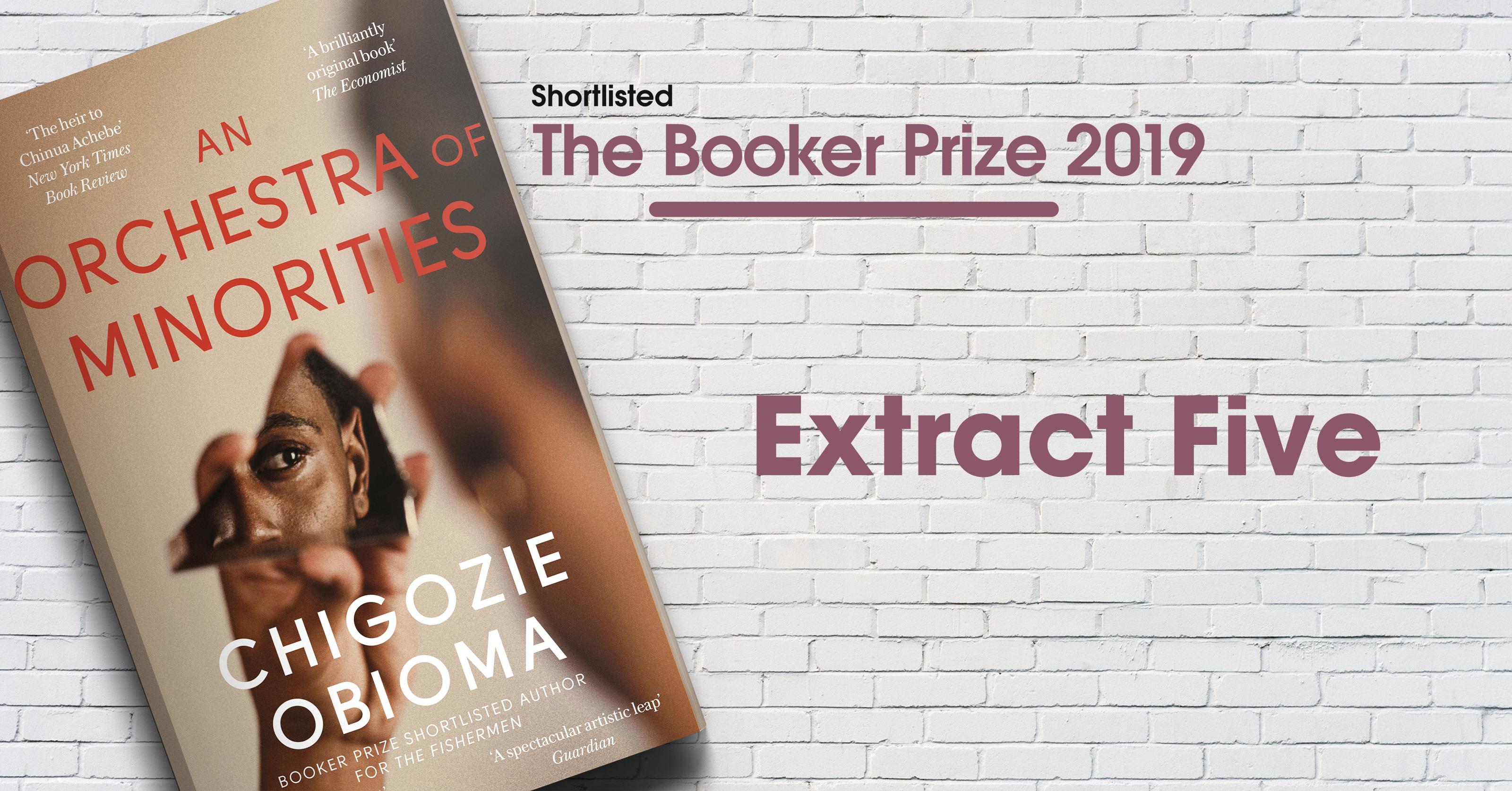 OBASIDINELU, you have sent me to live on the earth with humans in many cycles of existence, and I have seen many things, and I'm wise in the ways of humanity. Yet I do not fully understand the human heart. Every person lives as if oscillating between two realms, unable to anchor his foot in either. This is a strange thing. Let us consider, for instance, the intercourse between fear and anxiety. Fear exists because of the presence of anxiety and anxiety because humans cannot see the future. For if only a man could see the future, he would be more at peace. For one who plans to travel in a coming day may say to his companion, 'If we go to Aba tomorrow, we will encounter robbers on the highway and we will be robbed of this car and all our possessions.' To which the other may say, 'Surely we will not go to Aba tomorrow.'
Or suppose there is a young woman about to be married. If she could see the future, she could say to her father on the eve of the wedding, 'My father, I don't mean to disappoint our entire clan and soil our name. But I have come to find that if I marry this man, he will beat me every day and will treat me worse than a dog.' Can you imagine what fear this would create in her beloved father if he believes what she has seen is true? The father would snap his fingers over his head and cry, 'Tufia! Ya buru ogwu ye ere kwa la! Anyone who has prepared such a spell, may it come to naught! You must leave the man at once, my daughter. Where is the bride price he has paid? Where is the young goat? Where are the three tubers of yam? Where is the bottle of schnapps and the crate of mineral? Return them all at once! God forbid that my daughter should marry such a man!' But Chukwu, they will not do such a thing because none of them can see the future. So without knowing it, the men of trade will embark on their journey on the planned day and get robbed and killed. The young woman will marry the man who will treat her worse than a slave. I have seen it many times.
It is in this same way that my host drove his van to Ndali's house that Sunday not knowing what was in store. Unable to induce the day to arrive earlier and unable to stop it from coming, he'd waited anxiously for it. Time is not a living creature that can listen to pleas, nor is it a man who can delay. The day will come, as it has done since the beginning, and all that man can do is wait. Waiting in such a state of anxiety is tasking. Although one might feel a sense of peace while waiting, that peace is deceptive – the kind that could cause a man to think of roiling waters as calm.
He had not seen her in two days before that day, and he longed for her. He entered her street, trying to imagine what her family was like, what the house looked like. The electrical poles around the street were lower than they were in most other parts of Umuahia, and they seemed lined up close to each other, like laundry ropes. Small sparrows sat on a thick one that reared from the transmitter on the other side of the road, as if they were all in some agreement to stay on the cable. Shepherd, he thought suddenly. Is that nobler? Shepherd of birds? Is that what he would call himself at the meeting? Would that make things good and make things go well?
He arrived to find their house looming over the road in grandeur and prominence. He accessed this secluded part of the street called 'Layout' by serendipity. The road was well laid, and there was a pavement, beyond both sides of which were residential buildings. The house he was looking for, number 71, sat at the end of the layout, creating a dead end. Its walls were yellow, not quite as high as some of the others but rimmed around on the top with fine hoops of barbed wire. As if to demonstrate what might happen to a robber confident enough to attempt a break- in, a black polythene bag had been caught on the spike of one of the hooped wires. The morning wind pushed persistently at the bag, forcing it to cling to the wire by one of its handles, and its tumefied body to continue to wheeze at the pressure of the wind.
Oseburuwa, he did not know why he watched the bag for as long as he did – an object caught in something from which it could not get away no matter how much it tried. This intrigued him. He pulled up in front of the giant gate and turned off his engine. He looked at himself in the rearview mirror. He'd successfully cut his hair the previous afternoon. By the mirror, he fixed his tie, which was the colour of the shirt he wore. He'd pressed it with the iron Ndali had bought him, a strange technique in which the surface of a hot object is pressed against a cloth. He sniffed the suit and questioned whether he should have worn it. He had washed it the day before and hung it on the laundry rope. He'd hoped to take it in shortly afterwards but had fallen asleep. Once I heard the rain, I rushed out of the yard, but there was nothing I could do. A chi cannot influence a host who is not in a conscious state. So I had watched, helpless, as rain poured down on his laundry until the drumming on the asbestos roof woke him. Instantly, I flashed the thought of the suit jacket into his mind, and he ran out but found the suit already soaked. He brought it into the house and hung it on a chair in the living room. Although it was dry by the time he put it on, it had acquired a rank smell. He removed the suit jacket and held it in his hand in case Ndali became concerned with why he did not wear it.
Before he turned on the engine again, he looked at the metallic structure attached to the gate. It was of Jisos Kraist bearing a piece of wood with two outstretched arms. He was gazing at this when the small gate attached to the big one opened. A man stepped out of it wearing a uniform of faded blue and a black beret. The man's trousers were hiked
unevenly – one to the knees and the other below the knee.
'Oga, what do you want?' the man said.
'I am a guest of Ndali.'
'A guest, er,' the man said, a weak frown on his face. The man ran his eyes over the van, ignoring his affirmative answer. 'From where you know Madam from, Oga?' the man said in the language of the White Man.
'What?'
'I asked how you take know my Madam?' The man had come to the van, planted his two hands on top of it, and bent his head to peer in at its only occupant.
'I am her boyfriend. My name is Chinonso.'
'Okay, sir,' the man said. He detached from the van. 'You be the man they are expecting?'
'Yes, na me.'
'Ah, welcome, sir. Welcome.'
The man hurried through the small opening in the gate, and he heard a rattling of metals and rods. One of the two big gates squeaked and swung open. Although he knew that Ndali's father was a titled chief and therefore rich, he did not expect that their wealth would be of this magnitude. He didn't at all expect to see the life- size sculpture of a menacing lion, one foot suspended in mid- air, the other ballasted into the floor of the fountain. From its wide- open eyes and mouth flowed a steady stream of water into a bowl of concrete. It took him a moment to recall that she'd said something about a figure whose photo her dad had taken during a trip to France and vowed to replicate in their mansion in Umuahia. He searched his mind carefully to see if he had been told about a basketball hoop. Had she mentioned the number of cars they had, or that their cars sat under a structure roofed with zinc? He could not remember. He counted: the black Jeep – 1, the white Jeep – 2, a car whose make he did not know – 3, Ndali's Audi sedans – 4, 5, 6. Oh, there's another shielded from view by the big wheels – 7! Yet another, a Mercedes- Benz, beside which he'd parked his own vehicle – 8. Looking carefully, he could see that was all. Eight cars.
He'd stepped out before he noticed that the gateman had been following him and had been standing beside his car waiting for him to get out.
'I can help you carry anything you bring inside, Oga.'
He noticed then that he'd forgotten the gift he had brought. He stopped, turned and rushed back to the car. Even though the image of him dropping the bag with the wine on the bench in the yard stood like a banner in his mind, he searched the van, the backseats, the front like a madman.
Egbunu, I must say here that this was one of the occasions in which I had wanted to remind him that he was forgetting the gifts. But I didn't because of your counsel: Let man be man. The role of the chi is to attend to higher matters, things which, by virtue of their magnitude, can affect the host in major or significant ways. It must also attend to supernatural matters which man, in his limitation, cannot handle. But this omission, as I look back now on the things that would result from that visit, strikes me with pangs of regret, and I begin to wish that I had reminded him.
'Oga, Oga, hope no problem?' the gateman said repeatedly.
'No, no problem,' he said with a slight trembling in his voice.
He thought for a moment if he should rush back home, but he recalled she'd begged him not to arrive late. The word flashed in his mind like fire: punctuality. He remembered her saying it: 'My dad likes punctuality.' I was relieved, Chukwu, as he hurried towards the house.
Shortlisted for the Booker Prize 2019, An Orchestra of Minorities is a heart-wrenching epic about the tension between fate and free well.